Boy Meets Girl (1984)
(1984)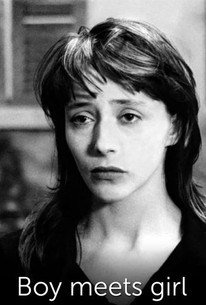 Boy Meets Girl (1984) Photos
Movie Info
A depressed aspiring filmmaker falls in love with a suicidal young woman in this off-beat French drama, the second feature from director Leos Carax. Both have been recently dumped by their lovers and neither is coping very well. They meet via an apartment intercom system. Later the filmmaker sees her by the Seine. They finally meet in person at an elegant party and begin a long, strange conversation over a kitchen table. During the course of their talking, the two find themselves unable to resist their mutual neediness and this leads them to tragedy. ~ Sandra Brennan, Rovi
Critic Reviews for Boy Meets Girl (1984)
Audience Reviews for Boy Meets Girl (1984)
½
For an avant-garde film, "Boy Meets Girl," Leos Carax' debut release, is surprisingly tender. This is my first viewing of any Carax film, and I was surprised and delighted by the emotional quality of "Boy Meets Girl." Avant-garde artists typically are all about ideas. But Carax, at least in his early days, was all about feelings. "Boy Meets Girl" introduces us to an array of characters, all feeling wounded in some way. Mostly it is due to the loss of love. The two lead characters, young intelligent misfits played by Denis Lavant and Mireille Perrier, have just been dumped by their significant others. They walk around Paris shell-shocked until they meet each other at a party. The scene where they start getting to know each other is so loving and compassionate. Carax has a deep heart. It seems he spent his college years not so much studying philosophy as studying people. He's got a PhD in the human yearning for love. But it's not a great film. It's charming but rather light. It reminded me most of the films of Jim Jarmusch. By a very nice coincidence, Jarmusch and Carax both released their debut films in 1984. (JJ's was "Stranger Than Paradise.") They both embody the downbeat, laconic chic of the New Wave era. But whereas Jarmusch's characters almost never emote, Carax' characters frequently gush. It's hard to believe that I've never heard of Carax until this year. I don't know how his work slipped by me all these years. Surprisingly, he never developed much of a reputation in the US. I discovered him by way of the trailer for his brand-new film, "Holy Motors," which showed at Cannes this year but has not been released in the US yet. (Thank you, Vite, for sending me the trailer.) While I wouldn't say I was mesmerized by "Boy Meets Girl," I was impressed -- pleased enough to want to see all his films. There haven't been too many. He basically retired in 1999 after "Pola X." So "Holy Motors" represents his big return to filmmaking. I'm eager to see his entire body of work.
William Dunmyer
Super Reviewer
Boy Meets Girl (1984) Quotes
There are no approved quotes yet for this movie.