Kuroi Ame (Black Rain)
(1989)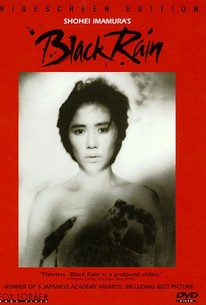 Kuroi Ame (Black Rain) Photos
Movie Info
When a young woman visits Hiroshima on the day of the atomic bombing, she somehow survives to return to her village. Her village has been affected by the black rain of the bomb's aftermath, and as the villagers sicken, they begin to blame her for bringing this back to them.
Rating:
NR
Genre:
, ,
Directed By:
Written By:
In Theaters:
On DVD:
Runtime:
Studio:
Angelika Films
Critic Reviews for Kuroi Ame (Black Rain)
Audience Reviews for Kuroi Ame (Black Rain)
"Black Rain", not to be confused with the Michael Douglas/Jerry Garcia Yakuza crime thriller, is director Imamura Shohei's own scathing commentary on the treatment of those Japanese men and women affected by the bombings in Hiroshima and Nagasaki, by their own people. With images recounting the memories of that horrific day, I was reminded of no less of a movie than Steven Spielberg's "Schindler's List" and the atrocities depicted therein. The story tells of a family which, in one scene, watches the explosion from afar. Effected by the nuclear fallout which occurs in the form of a black rain (hence the films title), the characters in the film begin to experience varying symptoms of radiation poisoning, ultimately leading to a painful and tragic death. Routine examinations are given in order to issue papers (almost dignity passports) to those who seem to have escaped any damning effects. Without these papers one may find it incredibly difficult to marry or find work outside of an "infected" community. Shot in black and white, Imamura, in his old age, seems to channel his long dead mentor, the great Ozu Yasujiro, as the family which the film primarily deals with tells of an intensely personal struggle. Yet, as he did in the days of his youth, Imamura breaks free of the polite, restrictive emotions of Ozu and creates a grand indictment of the way in which Japanese government and society dealt with such a tend moment in their own history-- and as a deleted color ending of the film suggests, how they remained to hold on to such a view even the days of its release. Black rain stirs around images in our collective imaginations as if they were somehow related to our own experiences of a nearly forgotten era. It is still hard to relate such destruction to our own past decisions in dealing with the war machine which presented such a threat to life and liberty in the dark days of the second world war. In the end, we all must live with ourselves and each other.
Jesse B
In "Black Rain," Shigematsu(Kazuo Kitamura) is caught in the nuclear blast in Hiroshima just as he is boarding a train, along with his wife Shigeko(Etsuko Ichihara). They find their niece Yasuko(Yoshiko Tanaka) easily enough who was outside of the blast area but still caught in the fallout. Together, they start a horrific journey to the factory where Shigematsu works and now considers sanctuary. Five years later, they are living in the countryside and Shigematsu and Shigeko turn their energies to try to get Yasuko, at the advanced age of 25, a husband but everybody is all too aware of her past, even with a clean bill of health. That's not to mention him starting to show symptoms. The quietly moving and riveting "Black Rain" is a relatively restrained movie filmed in stark black and white from Shohei Imamura who shows little of his typical chaotic energy.(The exception is a subplot centered around Yuichi(Keisuke Ishida), a shell shocked former soldier, while another subplot goes nowhere.) There are few close-ups, as the movie keeps its emotional distance from the characters. Since radiation sickness at this point is so new, there are no successfully proven treatments, leaving the victims to rely on either folk remedies(So, I guess they were not kidding about the cod blood.) or ritual which can either be of the religious variety or as mundane as listening to the news every night at the same time. Time is also of importance to these characters who might not have that much left but it also flows in different directions, which flashbacks to the fateful day attest to as much as Shigematsu's mother confusing Yasuko with her dead mother. History repeats itself as war is happening again in Korea, leading to a news report of Truman threatening to use nuclear weapons, reminding us that some people never learn history's lessons. At least one character does get it when he points out that 'an unjust peace is better than a just war.'
Amazing film. A very sobering look at the innocent civilian side of war. This one specifically being the aftermath of the bombs dropped on japan.
Tracy Williams
Kuroi Ame (Black Rain) Quotes
There are no approved quotes yet for this movie.
Discussion Forum
Discuss Kuroi Ame (Black Rain) on our Movie forum!