Slither
(1973)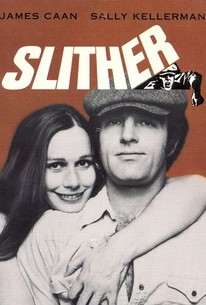 Movie Info
In Slither, James Caan plays Dick Kanipsia, a recently paroled car thief whose plans to go straight are interrupted when his best pal Harry Moss (Richard B. Schull) is shot and killed. As he lies dying, Moss advises Kanipsia to seek out fellow crook Barry Fenaka (Peter Boyle), who knows where a huge amount of money stolen by Moss is hidden. Aware that he himself is a marked man, Kanipsia has to play it cool en route to Fenaka. This proves difficult when his erstwhile travelling companion, dopehead Kitty Kopetzky Sally Kellerman, robs a roadside diner in his presence. Since nothing is ever quite what it appears to be in Slither, perhaps we shouldn't tell you any more. This truly serpentine tale served as the feature-film directorial debut of Howard Zieff, the former TV-commercial helmsman responsible for the famous Spicy Meatball ad.
Rating:
PG
Genre:
,
Directed By:
Written By:
In Theaters:
On DVD:
Runtime:
Studio:
MGM
Critic Reviews for Slither
Audience Reviews for Slither
Sometimes amusing mashup of comedy and crime drama with an ambling mood and relaxed performances from its cast.
½
Well, tonight I saw [i]Slither[/i], and I coulsn't have been happier. It was over the top with gore and grossness, and its sense of humor wasn't overbearing like I feared. I had a theory that the three movies to save the horror genre would be [i]The Devil's Rejects, The Hills Have Eyes [/i]and [i]Silent Hill[/i]. I started to doubt my theory when [i]HHE[/i] didn't live up to my expectations, but tonight made me realize that films like [i]Slither [/i]and [i]Shaun of the Dead[/i] may be just as effective in reviving the genre. Comedy/horror films have the freedom to re-use all the classic conventions without being cliche, and thus remind the industry what the viewers want to see. But that's just my opinion. 9/10 [i]Lucky Number Sleven[/i] was also playing at the theater. That has to be the worst movie title since [i]Ballistic Ecks vs. Sever[/i]. 0/10 (for having a stupid title)
Nick Schurk
Slither Quotes
There are no approved quotes yet for this movie.