Party Girl
(1958)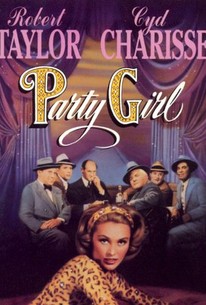 Movie Info
Robert Taylor stars in director Nicholas Ray's Party Girl as the traditional Ray anti-hero: a criminal lawyer who's a little bit of both. Fronting for Chicago gang boss Lee J. Cobb during the late 1920s, Taylor manages to get Cobb-underling John Ireland off on a murder rap. Cobb throws a party to celebrate the event at his penthouse, where showgirl Cyd Charisse performs a sexy dance. Ireland has the hots for Charisse, but she's more interested in Taylor. Thanks to her good influence, Taylor decides to quit the rackets. But after agreeing to take one more case for Cobb, Taylor is wounded in a shoot-out and hauled before prosecutor Kent Smith. Smith orders Taylor to testify against Cobb; the lawyer agrees to do so provided that Charisse is given police protection. Unfortunately, Cobb gets to Charisse first and threatens to throw acid in her lovely face while Taylor watches helplessly.
Critic Reviews for Party Girl
Audience Reviews for Party Girl
½
Party Girl is a negligible mess whose biggest obstacle is itself and its inability to figure out what it wants to be. At points its a mob movie, nothing as great as Warner Bros was putting out in the 30s but a mob film nonetheless. Then it meanders into Douglas Sirk melodrama territory where it also fails. Oh, and there are also a couple of dance numbers where Cyd Charisse proves she can dance better than she can act. Robert Taylor does an okay enough job and Lee J Cobb... well, plays Lee J Cobb as a bad guy. The best part of Party Girl outside of its completely inappropriate title is Nicholas Ray's direction and the photography. Namely during those previously mentioned dance numbers. Aside from those things I was waiting for it to end after the first 45 minutes.
Michael Gildea
Super Reviewer
Party Girl Quotes
There are no approved quotes yet for this movie.
Discussion Forum
Discuss Party Girl on our Movie forum!