Poison
(1991)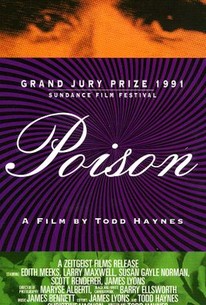 Movie Info
Todd Haynes' feature debut is structured around three interlocking vignettes. In the AIDS allegory "Horror," filmed in the style of 1950's science fiction B-movies, a scientist (Larry Maxwell) distills the human sex drive into liquid form; in "Hero," told in the documentary style of a tabloid-television report, the exploits of a seven-year-old boy who shoots his father and then flies away are recounted; and "Homo," based on the writings of Jean Genet, is an examination of the prison romance between two male prisoners.
Critic Reviews for Poison
Audience Reviews for Poison
½
Less a cohesive motion picture than it is a collection of ugly, awkward, poorly-realized scenarios, "Poison" is the visually repulsive and, at times, incomparably bland debut from director Todd Haynes (who would eventually go on to make bigger and much better things) that was a source of extreme controversy during its time. Not only does it not deserve to be talked about or brought up in conversation, but it isn't worth a second of anyone's time. It's unremarkable, self-important, degenerative trash.
Stephen Earnest
Super Reviewer
Three stories about a prison romance, a boy who flies away after killing his father, and a scientist who becomes a leprous sex monster are entwined. I think I could find a way to link these three stories to sexuality, specifically gay sexuality, just as several other reviewers have done, but the acting and writing were so deplorable that it made it difficult to follow the film. I understand that "Horror," the B-movie storyline, was supposed to have bad acting, but there is no such excuse for the other two stories. The performances were so stilted and self-conscious, and it seemed like first-time director Todd Haynes didn't shoot enough takes. Overall, I think there might be something interesting underneath the crappy acting, but I couldn't bring myself to see it clearly.
Jim Hunter
Super Reviewer
½
The small budget for this film did not hold back Todd Haynes' big ideas. This is a disquieting, challenging movie that presents us wiith heavy subject matter without offering immediate or obvious explanations. The structure, tone and concept are extremely polished. A great debut.
Poison Quotes
| | |
| --- | --- |
| Fontenal Inmate: | Someone 's got Rass tied up by the balls.. |
| Fontenal Inmate: | Someone's got Rass tied up by the balls. |