Grand Canyon
(1991)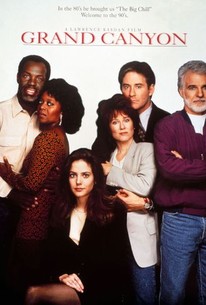 Movie Info
Director Lawrence Kasdan's Grand Canyon is a gathering of random events, uniting the film's wildly divergent protagonists. Driving home from an LA Lakers game, Mack (Kevin Kline), an immigration attorney, is stranded in an unsavory part of town when his car breaks down. He is rescued from a gang of hoods by Simon (Danny Glover), an African-American tow truck driver, inaugurating a friendship between these two men. Mack offers to repay Simon's kindness by helping his sister (Tina Lifford) find an apartment in a better neighborhood, and by arranging a blind date between Simon and Jane (Alfre Woodard), a friend of Mack's secretary Dee (Mary Louise Parker). Woven into this fabric are the tribulations of Mack's best friend, a pompous exploitation movie producer (Steve Martin), who is later wounded in a robbery similar to the one threatening Mack at the beginning of the film; of Mack's wife Claire (Mary McDonnell), who adopts an abandoned baby, and disenfranchised son Roberto (Jeremy Sisto); and of Simon's nephew (Patrick Malone), who is contemplating joining a street gang. The title is symbolic, referring to the class-imposed chasms which would normally separate the characters. Kasdan co-wrote the screenplay with his wife Meg.
People Who Like this movie also like
News & Interviews for Grand Canyon
Critic Reviews for Grand Canyon
Audience Reviews for Grand Canyon
An uplifting drama from Larry Kasdan that takes a peek into the modern urban life, about the fear and confined spaces within which everyone's living. The plot revolves around six characters, each of them having trouble to get on with their daily lives, for several different reasons. As these lives serendipitously criss-cross each other, they're convinced eventually that there's hope at the end of the tunnel.
Almost like an unofficial prequel to Crash, but it really doesn't have the unique style or writing. It's pretty obvious that this was made to be an edgy race film and it almost has no purpose aside from that. A lot, if not all, of the characters are one-noted. It's good for a casual viewing in your high school classroom, but it is so unrealistic and negligent that it can't be taken seriously.
Conner Rainwater
Super Reviewer
This ensemble drama follows the lives of a couple of Los Angeles residents in the early 90s and their exceedingly pessimistic view on their lives and the state of the world at that time. Carried by excellent performances (Kevin Kline, Mary McDonnell and Steve Martin in a surprisingly serious, yet not entirely humorless role) the film develops a quite mesmerizing pace, despite of a few slow scenes (especially the dream sequences could have used some editing), also thanks to James Newton Howard's great soundtrack score. The fact that the film doesn't feel the need to end in a pretentiously dramatic and bad way is another big plus. It's keeping its optimistic view throughout the small twists of fate the characters have to go through, stating that it pays off to care about others and trying to help them out. And the final moments of the film are as overwhelming and humbling for the characters as for the audience. A smart, touching and heart-warming experience.
Grand Canyon Quotes
| | |
| --- | --- |
| Davis: | That's part of your problem you know, you haven't seen enough movies; all of life's riddles are answered in the movies. |
| | |
| --- | --- |
| Davis: | I think if you talk about stuff, then maybe that takes the place of doing it. |
| | |
| --- | --- |
| Mack: | There just seem so many ways to "buy it." |
| | |
| --- | --- |
| Mack: | Why is it when somebody is successful in one field, they think they know about everything. |