King Lear
(1987)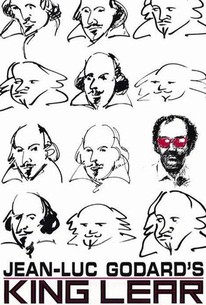 Movie Info
Two highly talented and innovative directors-filmdom's Jean-Luc Godard and the theatre world's Peter Sellars - join forces in this unusual (to say the least) slant on Shakespeare's King Lear. The Bard's tale of an aging monarch destroyed by false flattery and foolish pride is conveyed with offbeat lighting and sound effects, rendering the text virtually expendable. Even Godard's most fervent followers were at a loss to explain some of their idol's creative choices in this 91-minute absurdist exercise. Chances are, however, that you'll stick through it, rough going though it is in spots. After all, how many other Shakespearean adaptations can boast a cast that includes Burgess Meredith, Molly Ringwald, Woody Allen and Norman Mailer?
Critic Reviews for King Lear
Audience Reviews for King Lear
I originally gave this 4 stars. Um, really? Admittedly it was well over 10 years ago I last saw this. I wonder if I actually understood it back then, because I sure don't now... I see this as more art piece than movie. It is virtually incomprehensible, and just so much happening. Choppy. There's a blethering old guy with such an irritating voice you just want him to shut up, let alone take in any of his ramblings. There are some nice shots and eerie music. And seagull sounds. There's some lovely outdoor shots and some 80's fashions. I'm not sure what's up with the models running around the countryside. There is Molly Ringwald - let's face it, the reason I bought this. (Don't buy it for Molly Ringwald. She's great and I could feel the depression of her character, but she's great in better movies than this one). I can't totally pan this, because it's interesting. There's parts that make me want to like it. But I'm not at all sure that's actually what the director wants here.
Nicki Marie
Super Reviewer
½
Behind this is Godard's inability to resolve an essential contradiction in his work -- his reverence for ideas and theories and all sorts of philosophical speculation, and his utter disregard for a sustained, coherent presentation of them.
Greg Wood
This is the best po-mo, post-structuralist, graduate student film that I have ever seen. In the midst of trying so hard to fulfill her role, Molly Ringwald silently expresses total befuddlement as to what the film is about. Running out of funding during shooting, Godard perseveres with a kitchen collander and fishing lures to bring us a true slice of great art at the end of the 20th century. A charming, funny, film that Herzog would appreciate as a documentary disguising itself as a film about Shakespeare.
Mary Green
King Lear Quotes
There are no approved quotes yet for this movie.
Discussion Forum
Discuss King Lear on our Movie forum!