Cops and Robbers
(1973)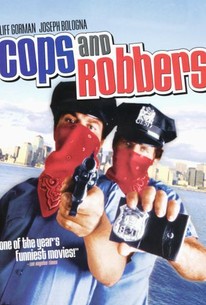 AUDIENCE SCORE
Critic Consensus: No consensus yet.
Movie Info
Two lawmen decide to find out if a life of crime pays better in this gritty action comedy. Joe (Joseph Bologna) and Tom (Cliff Gorman) are two friends who work for the New York Police Department, Joe as a beat cop and Tom as a detective. Both of them put their lives on the line every day for low wages in a city that seems to get crazier and more dangerous by the minute. One evening, Joe is on patrol when he stops into a liquor store, draws his gun and demands that the clerk hand over all the cash in the register. Joe walks out with more money than he usually makes in a week, and when he tells Tom what he's done, they agree that as policemen they can go anywhere and do anything, making it a cinch for them to become thieves. After striking a deal with a tough but vain gangster (John P. Ryan), Joe and Tom plan a robbery of a Wall Street securities firm that will net them a million dollars each, enough to get out of the suburbs and live as they please with their families for the rest of their lives. But the big heist takes a turn for the worse when some other criminals happen to hit the same building at the same time the cops are pulling off their robbery. Cops and Robbers was written for the screen by noted crime novelist
Rating:
PG
Genre:
,
Directed By:
Written By:
In Theaters:
On DVD:
Runtime:
Studio:
United Artists
Critic Reviews for Cops and Robbers
All Critics (2) | Fresh (1) | Rotten (1)
It seems confused about what to do about regular guy cops who get bitten by the greed bug and become dirty.

Ozus' World Movie Reviews

Audience Reviews for Cops and Robbers
½
Entertaining (dark comedy) heist film by NYC police partners who think they can retire by fooling the Mafia. Of course this is fiction, but I found the film worth the watch. [img]http://i.ebayimg.com/t/1973-Cliff-Gorman-Cops-And-Robbers-Original-Signed-Autographed-Photo-147U-/00/s/NzY4WDEwMjQ=/$(KGrHqR,!pgE7BcvjGEHBO9Jj,wu2w~~60_35.JPG[/img] Our pair of ambitous cops Fast paced, never a dull moment. From the first minutes, you know this is dangerous business and risky too. Never heard of this one, but was worth the wait. Might be called improbable by many film buffs, but still it's well made. Michel Legrand, (Summer of '42, etc.) famous music composer of the time did the film. See the NYTimes review below. [img]https://encrypted-tbn1.gstatic.com/images?q=tbn:ANd9GcSARIILl-scSfkAPDNqXV-ubtqq_tQEaQyrpM3CgRmnUL-PwabRKA[/img] A escape scene near the end of the film REVIEWS: 1 The New York Times: "If anybody had told me even a week ago about a funny, exciting, semi-plausible, exceptionally intelligent caper movie, I would not have believed him. "Cops and Robbers," despite its title, and despite the slightly dumb-dumb ad campaign that is introducing it, is all those good things and more. It is uncommonly well acted. And it is the first movie in a long time to understand, rather than merely to exploit, its New York City locales."--- Greenspun, Roger (August 16, 1973). [img]http://upload.wikimedia.org/wikipedia/en/thumb/a/ac/Cops_and_robbers_%28film_poster%29.jpg/220px-Cops_and_robbers_%28film_poster%29.jpg[/img] SEE it all here at: http://www.youtube.com/watch?v=sHDZIlzROVU "Tom and Joe are disillusioned New York cops who decide to pull off one big robbery in their uniforms and retire on the proceeds. Bearer bonds are what the local Mafia boss will buy, so that's what they go for. Central Park is the location for the switch." --- wikipedia Cliff Gorman - Tom Joseph Bologna - Joe Charlene Dallas - Secretary James Ferguson - Liquor Store Clerk Frances Foster - Bleeding Lady Gayle Gorman - Mary Walt Gorney - Wino George Harris II - Harry Ellen Holly - Ms. Wells Randy Jurgensen - Randy [img]http://i1.ytimg.com/vi/D9e9nBxN8dQ/hqdefault.jpg[/img] Despite the red neckerchiefs on thier faces here, they never wore this in the movie Directed by Aram Avakian Produced by Elliott Kastner George Pappas Written by Donald E. Westlake Music by Michel Legrand Cinematography David L. Quaid Editing by Barry Malkin Distributed by United Artists Release date(s) August 15, 1973 (New York City) August 17, 1973 (U.S. wide) February 25, 1974 (Sweden) March 29, 1974 (Finland) Running time 89 min. Country United States Language English [img]http://i1.ytimg.com/vi/ogUOeazw6hg/hqdefault.jpg[/img]
monsieur rick
A well off-the-radar NYC copper crime caper, set and filmed in the early 1970s. Accordingly filled with authentic location city shoots, props and sounds. Two Manhattan beat cops (one of whom is a young Joe Bologna with a foppish hair-do) decide to fund their own widows' and orphans' kitty by boosting $10 million worth of bearer bonds out of Wall Street and, in Act 3, selling them to the Mob. The vibe is much like "The Taking of Pelham 1-2-3," and also yields the same gritty NYC nostalgia found in films such as "Serpico" and "The French Connection." Though this film is not at the level of quality of those classics, it will likely yield a pleasant 100 minutes of viewing for those who enjoyed those other films. I caught it when TCM served it up at 2:15am on a Wednesday morning. If only they'd sent along a couple of greasy slices and a canoli from the corner pizzeria, it would have been the perfect time trip. RECOMMENDATION: Mangia!
TonyPolito Polito
Cops and Robbers Quotes
There are no approved quotes yet for this movie.