Edge of Darkness
(1943)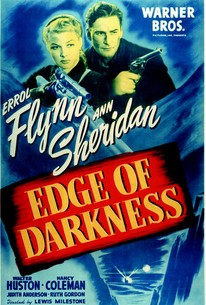 AUDIENCE SCORE
Critic Consensus: No consensus yet.
Edge of Darkness Photos
Movie Info
The Norwegian resistance to the Nazi occupation of their country inspired several wartime films from Hollywood, including this Warner Bros. production, filmed in and around Monterey, California. In October 1942, a German observation airplane discovers a seaside village named Trollness where the Norwegian flag is flying over the town square. A ground patrol discovers an empty town littered with corpses, including a number of Nazi officials. The story of the massacre is told in flashback. Errol Flynn plays Gunnar Brogge, a fisherman engaged to Karen Stensgard (Ann Sheridan), whose father, Martin (Walter Huston), is the village physician. Gunnar and Karen are working to undermine the Nazis. The town is divided, with the minister leading a contingent which believes that violence, even against the sadistic Germans, is morally wrong. Karen is concerned about the imminent arrival of her brother, who is known to be friendly to the German occupiers; she fears he may learn of plans by the British to deliver a supply of guns to the resistance. The Nazi commandant, Captain Konig (Helmut Dantine), keeps up the pressure to learn of any opposition to his administration, eventually deciding to execute a selected number of the villagers to force someone to reveal the extent of the resistance's schemes.
Rating:
NR
Genre:
, , ,
Directed By:
Written By:
In Theaters:
On DVD:
Runtime:
Studio:
MGM/UA Home Entertainment Inc
Cast
Critic Reviews for Edge of Darkness
All Critics (0) | Fresh (0) | Rotten (0)
Audience Reviews for Edge of Darkness
Her husband was shot but she carries on his work against us. During the World War a small Norwegian town is held hostage by the Nazis. Some Norwegians fall in line with the Nazi beliefs, while others form a committee to revolt. Those that plan to revolt plan with neighboring towns and the British to obtain arms and drive out the Germans. "No time for tears." Lewis Milestone, director of Ocean's Eleven, Pork Chop Hill, All Quiet on the Western Front, Mutiny on the Bounty, The Strange Love of Martha Ivers, and Of Mice and Men, delivers Edge of Darkness. The storyline for this picture is very well told. The plot is fairly standard for the genre, but the characters are delivered very well. The acting is excellent and the cast includes Errol Flynn, Ann Sheridan, Walter Huston, Judith Anderson, and Ruth Gordon. "A tidal wave has swept over us." I recently came across this on Turner Classic Movies (TCM) and had to DVR it. I enjoy watching Flynn pictures and this was one of his better performances. There was good drama in this film and I enjoyed the way the town's people were presented. This is worth a viewing for fans of the classics. "They will dig their own graves." Grade: B
Kevin Robbins
Edge of Darkness (1943) -- [8.5] -- SPOILER REVIEW: Norwegian villagers rise up against the Nazis in this super-entertaining wartime matinee. Errol Flynn headlines an ensemble that includes Walter Huston, Ruth Gordon, Judith Anderson, and Ann Sheridan. The first hour is a bit of a slow burn, but once the Nazis find out about the villagers' planned uprising, hang onto your butt. The tide turns just as things are at their darkest, with all the headlining cast members forced to dig their own graves in the town square. Smuggled arms arrive from the English just in time and the entire village marches on the square, but will they make it in time? How much do I love the fact that the pacifist pastor whips out a machine gun in the bell tower at the last minute and saves everyone's lives? A shit ton. But that's not the end of the movie. The Nazis get pushed back to their hotel headquarters and director Lewis Milestone ("All Quiet on the Western Front") stages a remarkable battle sequence in which nearly everyone dies. "Edge of Darkness" is involving, exciting, and full of terrific characters. My favorite character is Judith Anderson's, an icy bar keep who carries a flame for one of the Nazis -- but that doesn't stop her from popping a cap in his ass when the time comes. There's also a great score by Franz Waxman and a lot of nifty miniature photography. The film is a strong contender for my favorite Errol Flynn movie, as well as my favorite wartime propaganda flick.
Scott Schirmer
½
Suspense filled WWII drama set in Norway. The question of how the town overcame the German army plays out in flashback. [img]http://ts4.mm.bing.net/images/thumbnail.aspx?q=5037554768022079&id=c0828c73033c90edf3d89c6b8d2c5dc8&url=http%3a%2f%2fwww.altfg.com%2fStars%2fphoto-actors-e%2ferrol-flynn-ann-sheridan-edge-of-darkness.jpg[/img] But forget all that use of the word "progaganda" to berate this film. The film acurately sums up the bully German army as it wages incomprehensible brutality to a small fishing village. [img]http://upload.wikimedia.org/wikipedia/en/thumb/9/9f/Edgeofdarkness1943.jpg/220px-Edgeofdarkness1943.jpg[/img] Suggest you have first lived through the conflict before you banish a film to mere propaganda. To me, this was the real deal. While the scenes were a bit over the top, ie exagerated, one was left with no doubt that these German thugs had no morals what so ever. In reality, they had only their own "morality", the supremacy of their race. Errol Flynn, our lead actor and leader of the underground movement. He pops up now and again, but does not dominate this film. Others appear more often, at least in the first half of the film. Suggest you watch this to see perhaps a bit of old fashioned WWII reality, not the sanitized garbage we see today and even of yesteryear. Supplied with arms from a British submarine, the town villagers rally to overcome their German captors. Just how they do it is worth watching the movie itself. SEE the entire film here: http://www.youtube.com/watch?v=e8lLviiS4bI Reviews by the common RT folk: 70% Solid World War II propaganda film, helped out by a fine cast. It is a but extreme at times, but is it? Very well done and one must consider the year it was done. 70% "Edge of Darkness" is set in a small Norwegian village during the time of the Nazi occupation of Norway. [img]http://ts4.mm.bing.net/images/thumbnail.aspx?q=4677718102638643&id=b01ba7e22cfb0cdb8a017ac7fb5c1d26&url=http%3a%2f%2fimages.moviepostershop.com%2fedge-of-darkness-movie-poster-1943-1020703580.jpg[/img] NOTEs: 1 Edge of Darkness is a war film released in 1943. It was directed by Lewis Milestone and stars Errol Flynn, Ann Sheridan and Walter Huston. It was based on a script by Robert Rossen which was adapted from the novel Edge of Darkness (1942) by William Woods. 2 A young Ruth Gordon, much later in her career seen in Rosemary's Baby as an elderly neighbor (and Oscar winner), plays a role in the film. [img]http://ts2.mm.bing.net/images/thumbnail.aspx?q=4733191918387261&id=1d142ca03cfbc9b7c7c1cbe43eee24c5&url=http%3a%2f%2fwww.filmsinreview.com%2fwp-images%2f2010%2f08%2fedgeofdarkness.jpg[/img] Directed by Lewis Milestone Produced by Henry Blanke Written by William Woods (novel) Robert Rossen (screenplay) Starring Errol Flynn Ann Sheridan Walter Huston Music by Franz Waxman Cinematography Sid Hickox Editing by David Weisbart Distributed by Warner Bros. Release date(s) April 24, 1943 Running time 119 min [img]http://ts3.mm.bing.net/images/thumbnail.aspx?q=4556149070627722&id=fb4fc19a77be4129e2e5ddb5e09233a6&url=http%3a%2f%2fwww.annyas.com%2fscreenshots%2fimages%2f1943%2fedge-of-darkness-movie-title.jpg[/img]
monsieur rick
Discussion Forum
Discuss Edge of Darkness on our Movie forum!
News & Features