Night and the City
(1992)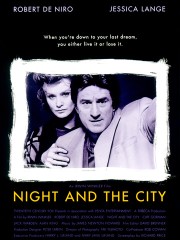 Night and the City Trailers & Photos
Movie Info
Night and the City is a remake of the 1950 Richard Widmark vehicle of the same name. Major changes: As played by Robert DeNiro, the Widmark character, one Harry Fabian, is no longer merely a two-bit tout but instead a two-bit lawyer; and the film is set in New York, as opposed to the London setting of the original. While embroiled in a lawsuit involving a boxer, Fabian becomes fascinated in the world of championship prizefights. Always susceptible to get-rich-quick schemes, Fabian tries to organize his own big boxing event, but to do that he needs the help of hardnosed promoter Alan King--and to get to King, Fabian uses the promoter's father, former boxer Jack Warden, to act as front man. Fabian scurries around lying and double-dealing in order to sell percentages of the upcoming bout, while King warns Fabian of the consequences should anything unfortunate happen to the ailing Warden. Disaster plagues Fabian as his boxers fail to pass their physicals, and Warden dies while setting up the big event. Pursued by King and his creditors, the terrified Fabian is urged by girlfriend Jessica Lange to get of town. Instead, Fabian decides to face up to his failings for the first time in his life, and stands his ground for the final, fatal confrontation. Like the earlier Widmark film, the 1992 Night and the City is based on a novel by Gerald Kersh.
more
Twentieth Century Fox Home Entertainment
Cast
News & Interviews for Night and the City
Critic Reviews for Night and the City
Audience Reviews for Night and the City
Mason Williams
Super Reviewer
So De Niro does great here, and his monologues and way of speaking incessantly are pretty good.
But this film, it just feels like this tired, old retread of something out there that's better. Oh wait, it's a remake, that's why!
I mean, Warden's good, hell, even Lange and her terrible accent isn't half bad, but I wasn't compelled to watch this movie that much.
The ending was scattershot, and I could've seen it coming a mile away. I'm sure the original is better.
This one, leave it in bin next to Eight-Legged Freaks and The Wiz.
matt sigur
Super Reviewer
Discussion Forum
Discuss Night and the City on our Movie forum!
News & Features