Geronimo
(1962)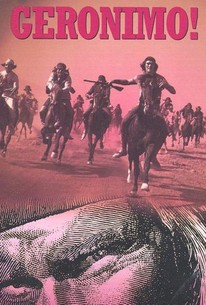 AUDIENCE SCORE
Critic Consensus: No consensus yet.
Movie Info
When the United States does not uphold a treaty made with the Native Americans, Geronimo (Chuck Connors) leads his people in an uprising against American soldiers.
Rating:
NR
Genre:
, ,
Directed By:
Written By:
In Theaters:
On DVD:
Runtime:
Studio:
United Artists
Critic Reviews for Geronimo
Audience Reviews for Geronimo
½
Some indians just don't give up. Realistic if hyped portrayl of American history's most stubborn indian chief. Chuck Connors (of The Rifleman tv series) stars as the Apache leader in this 1883 story that has the brave Geronimo steadfastly holding his ground against U.S. and Mexican military forces. This one comes off pretty much as most other Westerns of the era. Of course, the Moses for the indians is portrayed as Geronimo, an Apache who surrenders only to escape and fight again. Played very well by Chuck Conners of Rifleman fame, the calvary after him are the current day Egyptians chasing the Israelites from Egypt. Ross Martin, Geronimos faithful Apache chief, plays a round eyed articulate indian. Martin rose to greater fame as the fellow agent of Robert Conrad in tv's popular US Treasury agent spy series The Wild, Wild, West in the sixties. Chuck Conners carries this film with his strength of character, physical dominance (he was 7 feet tall) and intense acting abilty. The Mexican government and U.S. calvery join forces to hunt down Geronimo's anti-socialites. Very similar experience to the frustration today's governments have hunting down Bin Laden... only this was a hundred twenty years ago. Some guys just don't know the word quit, be it pride, arrogance or in Geronimo's case... dignity. Cast Chuck Connors (of tv's western The Rifleman as Lucas McCain) Kamala Devi Pat Conway Ross Martin (later of tv's Wild, Wild, West as Artemus) Denver Pyle (veteran movie and tv actor) Adam West (later lead actor of tv's Batman series) Crew Producer: Arthur Gardner Screenplay: Pat Fielder Composer: Hugo Friedhofer Director: Arnold Laven Cinematographer: Alex Phillips
monsieur rick
½
One of the funniest biopics I've seen! Chuck Connors looks and acts like Diego from Ice Age. His kidnapped wife wears designer hides. Ross Martin is just completely bad (tho' I still love Artemis Gordon!). They all talk in 1960's SoCal accents. Surely this was covered by MST3K???
Diane Wing
[font=Comic Sans MS][color=darkgreen][url="http://www.rottentomatoes.com/m/1041049-geronimo/dvd.php?select=1"][img]http://images.rottentomatoes.com/images/movie/coverv/60/115960.jpg[/img][/url][/color][/font] [font=Comic Sans MS][color=darkgreen][/color][/font] [font=Comic Sans MS][color=darkgreen]A white, blue-eyed Geronimo? At least they changed his eyes to brown on the cover of the movie LOL. That should be a sign of things to come for the rest of the movie.[/color][/font] [font=Comic Sans MS][color=#006400][/color][/font] [font=Comic Sans MS][color=#006400]The whole movie is just so disrespectful towards Geronimo and his life.[/color][/font] [font=Comic Sans MS][color=#006400][/color][/font] [font=Comic Sans MS][color=darkgreen]The music was horrible. There were no real Apache beats.[/color][/font] [font=Comic Sans MS][color=#006400][/color][/font] [font=Comic Sans MS][color=darkgreen]There was no Apache language.[/color][/font] [font=Comic Sans MS][color=#006400][/color][/font] [font=Comic Sans MS][color=darkgreen]The main actress had so much make-up on, one wonders where the closest beauty salon is out there in the desert LOL. I mean, that eye-shadow would make Tammy Faye Baker jealous. [/color][/font] [font=Comic Sans MS][color=#006400][/color][/font] [font=Comic Sans MS][color=#006400]The writers/directors/actors are so damn condescending! They write the Apache people in as animals. It's just so damn ethnocentric.... It's outrageous! For example, they have the Apache men just jumping at a plate of chicken and the white lady stops them, I think she actually does call them animals, and then says a Christian prayer. GIVE ME A F'N BREAK! Native people are spiritual also you know! And then to have the Apaches just throw bones on the floor.... Come on![/color][/font] [font=Comic Sans MS][color=#006400][/color][/font] [font=Comic Sans MS][color=darkgreen]How about telling a true story?[/color][/font]
Commish Guy