Alive
(1993)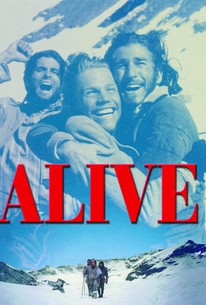 Movie Info
Alive, a taut psychological drama based on a true plane crash in the Andes mountains, shows the lengths ordinary young men will go to survive. A rugby team from Uruguay charters a plane to fly across the Andes. When the plane crashes, less than 25 people survive. Attempts to locate the plane are hampered by the remote location and bad weather, and soon hope is given up for finding anyone alive. After weeks without food, huddled in the hull of the aircraft, the passengers are faced with the choice of eating the dead, or dying themselves. The excellent cast of young performers, including Ethan Hawke, Vincent Spano and Illeana Douglas conveys the desperation and will to survive which lead to the eventual rescue of the survivors. The director, Frank Marshall superbly defines the dilemma faced by each of the survivors as they make their own moral decisions as to whether they will resort to cannibalism or die. The special effects are superb and the plane crash is truly spectacular, giving the viewer a first hand look at the effects of impact on the small plane. Alive -- well-acted, directed and photographed -- avoids cheap exploitation of the more sordid details of the incident and instead focuses on the heroism and determination of the survivors.
People Who Like this movie also like
News & Interviews for Alive
Audience Reviews for Alive
A thrilling true story of survival, Alive is a good film with a good cast. The film is a must see, but compared to other survivalist films, is not excellent by any means. I felt that some of the dialogue was cheesy, and that the script at times didn't. Frank Marshall's directing is clumsy at times, but he's able to direct something consistent most of the time. Alive could have been much better than this, but it somehow succeeds at delivering everything you'd expect from a survival drama, even with its imperfections. This is a good film about the courage of the human spirit, and though it isn't perfect, it's an entertaining film that is a remarkable story, however considering that, it could have been better. Some parts of the film are cheesy, and tend to go for the feel good factor too often. Alive could have been a great film, one to remember, however as a whole it ends up just being a good film, instead of the great film that it tried to be. There's just something missing from this film to really make it a standout survival drama film. I think that the script is slightly undeveloped and could have been better than what it turned out to be. Nonetheless, this is a good film with a good cast who deliver some good performances, but it does lack sometimes, and feels almost cheesy despite the subject matter. I think that the film could have been a bit more authentic in the way the events unfolded, and that the filmmakers could have toned down the traditional Hollywood drama, and presented the full facts. Despite its flaws, Alive is still a film worth seeing.
"I'm proud to be a man on a day like this." Uruguayan rugby team stranded in the snow swept Andes are forced to use desperate measures to survive after a plane crash.
REVIEW
Frank Marshall's film adaptation of the book recounting the 1972 plane crash in the Andes of a Uruguayan soccer team is a long (try about 2 and 3/4 hours) film that spares little in the grueling endurance test that the surviving members of the crash face. It was (in 1993) populated by a mostly nameless cast in a deft move by producers to keep the characters involved central to the story. Ethan Hawke is about the biggest name in this film,and even though his character carries much of the weight of the movie's storyline, the group effort to endure and ultimately survive this trial is still the true focus here. To me, this film was very difficult to watch, and the cannibalism storyline (which is dealt with very tastefully and soberly) is not my primary reason for that. As mentioned before, it is a long and detailed recount, where you the audience feel the shock, pain, expectations, dashed hopes, fears, tragedies, soul-searching, grief and (finally) joy of everyone involved. It is a gut-wrenching experience all around and I dare anyone who sees this film and pays any attention to it to say otherwise.
Lorenzo von Matterhorn
Super Reviewer
½
Ok its sad what happened to those that this actually happened to , but the movie is just so boring!!i don think it fully capture what those people actuallly had to o hrough and how they must of felt !! Some of te characters actuallly annoy me and i wouldnt have been able to put up with them
Film Crazy
Super Reviewer
Alive Quotes
There are no approved quotes yet for this movie.