Brother's Keeper
(1992)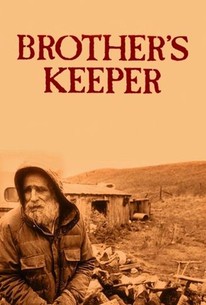 Movie Info
The first feature-length effort by documentary filmmakers Joe Berlinger and Bruce Sinofsky, Brother's Keeper unfolds a strange-but-true story about a most unorthodox family. 59-year-old Delbert Ward lives with his brothers Bill, Roscoe, and Lyman on a dairy farm near the upstate New York village of Munnville. Barely able to function on an adult level, the Ward brothers keep to themselves, ignored and shunned by their neighbors. When older brother Bill dies on June 5, 1990, the authorities determine that his death was not from natural causes. Suspected of a mercy killing, Delbert is charged with second degree murder. It gradually becomes apparent that the police coerced Delbert into signing a confession, whereupon his neighbors, who previously wanted nothing whatsoever to do with the man, begin lobbying passionately for his release. It's not that they believe that he's innocent, it's simply that he is one of "theirs." Berlinger and Sinofsky firmly refuse to sugarcoat their subject; their glimpses of the Mann brothers and their bizarre lifestyle might be unsettling to some. In addition to its other accomplishments, Brother's Keeper also demonstrates in a non-judgmental fashion how the media can manipulate public opinion, both positively and adversely.
Critic Reviews for Brother's Keeper
Audience Reviews for Brother's Keeper
Incredible true story of a couple of aging brothers who never tied the knot and ended up living together in poverty in the golden years of their lives. Through strange circumstances, one brother was accused of killing the other but the truth is delightfully more cryptic than that.
John Ballantine
Super Reviewer
"Brother's Keeper" is an interesting documentary about an old man from the backwoods brought up on charges for murdering his elderly brother. Not sound of mind and living in dismal conditions with his remaining brothers, Delbert, a man who has never been very popular is bailed out of jail by several members of the community in his hometown of Munnville. As the court date grows closer, the town rallies more and more behind Delbert as the media becomes more prevalent in the case, bringing about some very eloquent speakers despite their down-home appearances. This documentary is a great frame of reference of where our justice system has fallen and brings to light questions about morality and ethics that we face in our society even today. Joe Berlinger starts off a profound career with this film, to later bring films like the "Paradise Lost" trilogy.
Christopher Haskell
Super Reviewer
An outcast, illiterate farmer is accused of murdering his brother. This documentary is phenomenal in its ability to present this case objectively; as though I were a jury member, I oscillated between Delbert's guilt and innocence, and the film didn't lead me to a particular conclusion, save a few parts (for example, the brutal slaying of the pig made me think the documentarians were drawing a parallel between Delbert and the pig as sacrifices). Though it's not an agenda film, I think about how society creates outcasts after I watch this film, and though Delbert never rises to the status of a tragic hero in my view, there are several pathos-ridden scenes that enhance the film's dramatic effect, if not its implicit argument. Overall, this is a very good documentary about a very rare group of outcasts.
Jim Hunter
Super Reviewer
Brother's Keeper Quotes
There are no approved quotes yet for this movie.
Discussion Forum
Discuss Brother's Keeper on our Movie forum!