No Place to Hide
(1993)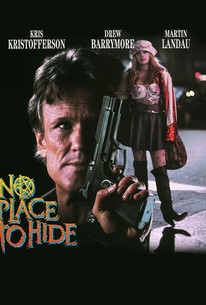 AUDIENCE SCORE
Critic Consensus: No consensus yet.
Movie Info
In this gory thriller, a troubled dancer has just enough time to convince her little sister to hide a videotape before she is stabbed to death by an unseen killer, leaving the surviving sister in grave danger. Fortunately, a cynical but determined cop comes on the case to help her.
Audience Reviews for No Place to Hide
½
What is justice? No really, what is it? This movie doesn't know. This is another movie where Drew Barrymore writes in her diary and reads it aloud for no reason. It makes me want to sign up for a creative writing class. Her character's name is Tinsel Handley, she's eligible for witness protection when her ballerina sister is killed, and this feels a lot like Murder She Wrote fan fiction. As expected, a ballerina can take demeaning misogyny, female slavery, and a full-frontal boob stabbing like a champ. Also as expected, Kris Kristofferson's grizzly presence as a detective-on-the-rocks with a female partner manages to be more misogynistic than the ballerina killer. Whoa, Martin Landau is here, and he's a police captain wondering who will keep doling out justice in the next generation. Is Kris the answer? Sure, this sounds like the voice of justice: Kris to Drew as Tinsel, "14? You look like a 30-year-old hooker." Did I mention how Kristofferson is shitty at his job? But, they want us to go easy on Kris because we learn in a poorly edited flashback that his wife and daughter were killed in a car collision with a drunk driver. That's why it's okay that he leaves a wheel-chair bound O.J. Simpson wielding a hammer in charge of baby-sitting Drew. As Drew's character says, "I'd laugh, but I'm out of practice." There's a scene where Kris brings her to a bar and forces her to dance. When she refuses, he grabs a stranger and commands him to dance with her as he sits at the bar drinking and staring like he's missing his dead daughter, his dead wife, maybe both? Definitely both. Yeah, both. Tagline: When Ace of Base was cool, Drew Barrymore was cooler. When murderers were cruel, Kris Kristofferson was crueler. Alternative tagline: Drew Barrymore has no place to hide from Kris Kristofferson.
Bivo Mon
An adult film -- only those who have experienced what it might be like to lose one's family to the carelessness of a drunk driver might find a certain resonance with Kris Kristofferson's superb portrait of an embittered yet vulnerable detective. A version of the "I've got to put my life back together" story, the film comes perilously close to focusing too much on Drew Barrymore's teenage angst -- her rebellion against authority is not simply the typical teenager's, nor merely the result of being spoiled, as Kristofferson's detective finds out when she begins to cling to him out of real need. As a potential victim of the mysterious group that killed her sister, she needs protection; but as the discarded and abandoned orphan she has become, she needs the love and care of the father she never had. A film to be watched for intense and subtle performances by the two leads, and as well, for OJ Simpson's final film role as Kristofferson's physically disabled pal - a nice counterpart to to the emotionally crippled Barrymore-Kristofferson duo.
Cassandra Maples
Super Reviewer
No Place to Hide Quotes
There are no approved quotes yet for this movie.
Discussion Forum
Discuss No Place to Hide on our Movie forum!