Blown Away
(1992)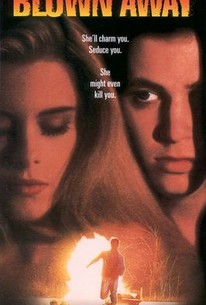 AUDIENCE SCORE
Critic Consensus: No consensus yet.
Movie Info
In this sexually charged thriller, Rich (Corey Haim) is an 18-year-old working at an exclusive ski resort while his older brother Wes (Corey Feldman) serves out a sentence in the state prison. Rich becomes strongly attracted to Megan (Nicole Eggert), a beautiful young woman whose father owns the resort -- and whose mother died under mysterious circumstances. Rich and Megan fall into a passionate affair, but when Megan begins to suggest that their lives would be better if her father were out of the way, Rich has to ask himself just how far he's willing to go for love. Blown Away was released in two versions -- an R-rated version and an un-rated cut that features more nudity and more suggestive love scenes.
Critic Reviews for Blown Away
Audience Reviews for Blown Away
A bad tacky 'made for TV' film which I don't think was actually made for TV haha its that bad. Its bad in two ways, firstly the acting is terrible and the two Corey's as usual stink, its made worse because they are actually trying to be serious and it just doesn't work, the rest of the cast aren't much better to be honest. Secondly this just plays out as a soft blue movie for young girl fans of Haim and all male fans of Eggert as there's plenty of soft sex scenes and ass on show lol plus Eggerts tits!!! good but kinda cheesey and a pathetic audience luring method. The plot is an old one with a reasonable twist at the end but nothing too special, I'm afraid when the two Corey's were together the films weren't too good....films made after The Lost Boys of course, that was their brief peak.
Phil Hubbs
Super Reviewer
Blown Away Quotes
There are no approved quotes yet for this movie.