The Adventures of Mark Twain
(1944)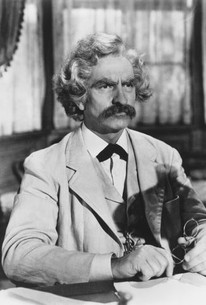 AUDIENCE SCORE
Critic Consensus: No consensus yet.
The Adventures of Mark Twain Videos
The Adventures of Mark Twain Photos
Movie Info
Dismissed by critics as corny and obvious in 1944, this overlong but sincere biopic looks pretty good when seen today, cliches notwithstanding. Fredric March, 47 at the time, convincingly plays American author Sam Clemens, aka Mark Twain, from his early 20s to his death at 75. In typical movie-biography fashion, every single incident that happens in Twain's life is an INSPIRATION: he hears the depth-indication call "Mark Twain" while working on a riverboat and his face lights up; he engages in a jumping-frog contest against Bret Harte (John Carradine) and comes up with his first popular published story; and so on. Alexis Smith is better than usual in the role of Twain's wife Olivia Langdon, even keeping a straight face while Twain courts her in Fluent Quotation ("Everybody talks about the weather but nobody ever does anything about it", he says during a Hollywood-romance cloudburst). Though the script barely touches upon the dark side of Twain's nature, we are not spared his financial reverses (brought about by bad investments and his struggle to publish Ulysses S. Grant's memoirs. The closing sequence, with Tom Sawyer and Huck Finn beckoning the spirit of Mark Twain to heaven as Halley's Comet fills the skies, may seem laughable on paper, but works quite well on film; even director Irving Rapper expressed amazement at the effectiveness of this scene! ~ Hal Erickson, Rovi
Critic Reviews for The Adventures of Mark Twain
All Critics (3) | Fresh (2) | Rotten (1)
Bearing strong physical resemblance to the character, Fredric March gives a solid performance in this overly long, episodic and simplified biopicture of the famed novelist.


Ozus' World Movie Reviews
Loving, beautifully photographed tribute to Twain with stellar March performance.

Dispatch-Tribune Newspapers
Audience Reviews for The Adventures of Mark Twain
½
Though it is overlong and gets boring at times it serves as an excellent tribute to one of the greatest American authors. Fredric March was perfectly cast and was outstanding in portraying Mark Twain. (First and only viewing - 4/28/2016)
Adam R
It's too long but does capture Twain's mystique. March is great in the lead.
½
I think I have a high tolerance for schmaltz. Some of my favorite films have been described by others as too sentimental, but I don't care. I like what I like :) I don't particularly think there's anything wrong with liking stories of that sort... but sometimes its not the script that tests my tolerance level - but actually the music. When the music becomes just a bit too intrusive and overpowers the script rather than adding to the ambiance of a scene. Yes, I'm supposed to feel sad now because - well, the music is loud and sad, I can take a hint! Sometimes it's just too distracting to me and prevents me from completely enjoying what was an interesting, if not all too factual biopic of the popular author and humorist Samuel L. Clemens - a.k.a Mark Twain. Which is too bad because if ever there was an author that deserves a decent biopic - it would be Mark Twain. He lived an interesting life during interesting times which he translated well into some of the more beloved novels and books of American literature. I have very fond memories of reading The Adventures of Tom Sawyer as a kid and it remains one of my all-time favorite books. One thing this film did right is the make-up on actor Frederic March. He looks like the spitting image of Twain and does a commendable portrayal. I just feel that the script doesn't do his performance justice though...it is very episodic (which is alright) but feeling a bit too rushed at times. His early childhood in Hannibal, Missouri mirrors the Tom Sawyer and Huck Finn novels. He runs away from home to become a riverboat pilot. He travels to the west with his friend, Steve Gillis (the always enjoyable Alan Hale) in hopes of striking it rich during the Gold Rush. This portion of the film mirrors his work in ROUGHING IT and THE CELEBRATED JUMPING FROG OF CALAVERAS COUNTY...again, not always factual but entertaining at least. If we are to believe the film - THE CELEBRATED FROG OF CALAVERAS COUNTY was a popular story and help lift the morale of the nation amidst the Civil War. Twain becomes a popular attraction as a humorist on the lecture circuit. It is during this part of the film where I feel the script fails because I just didn't feel the electricity of his talks. Oh, the audience in the film were laughing their butts off...but left me feeling meh! It is during his lecture tour that Twain meets his future wife, Olivia Langdon, played by Alexis Smith - one of the lesser known beauties from the 1940's, if ya ask me. Twain was smitten by Olivia's beauty years earlier during his days as a riverboat pilot...espying her picture in a locket belong to a passenger...it being a photo of Alexis Smith - it's very understandable!!! I think the best part of the film happens during the last third as Twain, despite being a successful novelist is verging on the brink of bankruptcy due to dubious business deals. He meets up with former US president and civil war hero Ulysseys S. Grant, himself destitute and in ill-health. Twain wants to publish Grant's memoirs and offers him what at the time was an unprecedented large advance. It's a key scene which touches on Twain's humanist side. There are a couple of fantasy sequences involving Tom, Huck and the slave Jim which earned the film special effects nominations in 1945. Overall, an interesting film...but really made me want to see a more definitive biopic of Mark Twain.
bernard anselmo
The Adventures of Mark Twain Quotes
There are no approved quotes yet for this movie.
Discussion Forum
Discuss The Adventures of Mark Twain on our Movie forum!