Die Nibelungen: Siegfried (Siegfried's Death)
(1924)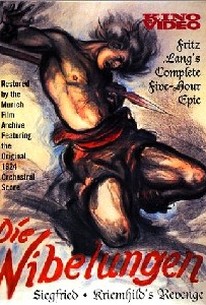 AUDIENCE SCORE
Critic Consensus: No consensus yet.
Movie Info
This lushly produced UFA production from Fritz Lang was adapted from the Norse sagas, and also from the Wagner operas Siegfried, Gotterdaemmerung, and Lohengrin. There is also a sequel -- Kremhilde's Revenge (Kriemhild's Rache). Siegfried (Paul Richter), son of King Siegmund, masters the art of forging a sword at the shop of Mime (George John). On his journey home, he hears tales of Kriemhild, the princess of Burgundy (Margarete Schoen). En route to Burgundy, Siegfried slays the dragon Fafnir, and bathes in his blood. This mades him invulnerable to attack -- except for one spot on his shoulder blade which he has missed. After finding the treasure of the dwarfs, Siegfried arrives in Bergundy. He meets the beautiful Kriemhild and accompanies King Gunther (Theodor Loos) to Iceland. The king wins the powerful Brunhilde (Hanna Ralph) as his wife, and Siegfried weds Kriemhild. Brunhilde plots to have Siegfried killed and makes up lies about him to the King. Gunther's uncle, Hagen Tronje (Hans Schlettow), finds Siegfried's weak spot and pierces it with a spear. After confessing that she made up stories about Siegfried, Brunhilde kills herself. An interesting side note: Adolf Hitler and Josef Goebbels both claimed this film as one of their favorites. ~ Janiss Garza, Rovi
Rating:
NR
Genre:
, , ,
Directed By:
In Theaters:
On DVD:
Runtime:
Studio:
Universum Film (UFA)
Watch it now
Cast
Critic Reviews for Die Nibelungen: Siegfried (Siegfried's Death)
Audience Reviews for Die Nibelungen: Siegfried (Siegfried's Death)
½
If you like The Lord of the Rings Trilogy, you may want to check out this German silent fantasy epic. Richard Wagner composed an opera cycle based on the same Medieval Norse epic poem. The costumes and sets are grandly operatic! Fritz Lang and his, then, wife, Thea von Harbou, split the tale into two parts. The script evidently is not an adaptation of Wagner's version, though. The word Nibelungen refers to a group of dwarves protecting a treasure. This first part, which is better than the second, contains a full-scale dragon puppet (not a miniature model), some dark animation, and plenty of fantasy magic effects. The hero, Siegfried, forges a magic sword and becomes invincible after slaying the dragon. However, he inherits a curse on the Nibelungen's treasure when he takes it. Siegfried finally arrives in the Kingdom of Gunther intending to marry Gunther's sister, Kriemheld. The duplicitous Gunther puts Siegfried through several challenges, but he and his one-eyed, winged-helmet wearing advisor Hagen of Tronje never trust Siegfried and eventually conspire to kill the hero. Thus, we are led to part two, Kriemheld's Revenge.
Byron Brubaker
Super Reviewer
Before "The Lord of the Rings," before "Game of Thrones," came "Die Nibelungen," an overlooked masterwork from Fritz Lang-- certainly one of the most ambitious and creative directors of all time. The various episodic adventures that make up this grand tale are a ton of fun, particularly the great sequence near the start where Siegfried battles a dragon. Considering the time period, the gigantic animatronic is impressive, and Lang cleverly uses editing and various angles to ramp up the pace and excitement of the scene. There are countless other memorable moments, particularly Hagen's triumphant line: "The Hunt is Over." Great stuff. As a side note, the first part of this movie was infamously a favorite of Hitler's, who falsely read allegorical meaning into the story. Lang himself was horrified by the Nazi party and eventually fled Germany when he was offered the opportunity to direct propaganda films for them. Taken as its own film, Siegfried's end could be seen as tragic and martyr-like, but the powerful sequel completes the cycle and makes the true meaning clear.
Trevor Downs-Robertson
½
lord of the rings of the silent era. a lavish production of the norse sagas filmed at ufa between 'dr mabuse' and 'metropolis'. siegfried slays a dragon, steals the dwarves' treasure and wins the hand of the fair kremhild...and this is only part one! interestingly all of lang's silent epics and early sound films were written by his then wife thea von harbou, who stayed behind in germany and joined the nazi party
Stella Dallas
Super Reviewer
Discussion Forum
Discuss Die Nibelungen: Siegfried (Siegfried's Death) on our Movie forum!
News & Features