Gypsy
(1993)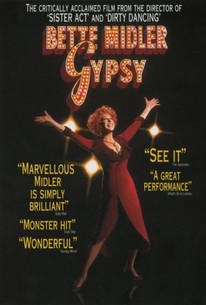 Movie Info
Based on a Broadway play and featuring the Jule Styne and Stephen Sondheim score, this is a remake of the 1962 movie which was based on the memoirs of Gypsy Rose Lee, a stripper, depicting her life growing up in "show biz." ~ Tana Hobart, Rovi
Audience Reviews for Gypsy
½
I'm always a little surprised by how lackluster a show Gypsy somehow ends up being. It's long and meandering and you really need someone with incredible charisma to carry the Mama Rose role. Bette Midler is passable, but nothing special. (Though neither was Rosalind Russell in the original.) She doesn't particularly shine in any of the musical numbers, and neither do any of her co-stars. Cynthia Gibb is probably the best of the cast, playing an awkward girl who suddenly discovers she has talent she never knew about. I enjoyed bits of the movie but not enough to make it worth recommending.
Hannah Megill
Bette Midler is my favorite Rose out of the two I've seen. She's disturbingly intrusive because that's who she is as a person and coincidentally that's who Rose is too. When she sings Rose's Turn it's actually kind of revelatory because she's so...vulnerable for a second. I know this is just a TV movie but I really, really enjoy it. The singing is a thousand times better. But in general this script and music and lyrics are just really, really good no matter who's in it. Even though the ending is too 1950s Hollywood...yick. Give me manic breakdown anyday.
Jennifer Xu
Super Reviewer
½
I still like the older one better, but I LOVE Peter Riegert. He was PERFECT in his roll. man... he should be in more movies.
Elizabeth W
Gypsy Quotes
There are no approved quotes yet for this movie.
Discussion Forum
Discuss Gypsy on our Movie forum!