Calendar Girl
(1993)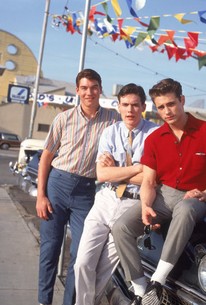 Movie Info
Lots of guys used to dream about having a date with Marilyn Monroe, but three friends who are about to graduate from high school to go their separate ways try to make that fantasy a reality in this comedy, set in 1962. Roy (Jason Priestley), Ned (Gabriel Olds), and Scott (Jerry O'Connell) have been buddies since the age of six, when they were entered together in a Howdy Doody look-alike contest. With only a few weeks to go before they graduate from high school, Roy has impulsively joined the Army to get away from his abusive father, while Ned has discovered he's going to be a father, and Scott is still plagued by his pesky virginity. Wanting to enjoy their last few weeks of freedom, Roy "borrows" a wad of cash and a blue Galaxie 500 convertible from his former employers, repo men Arturo and Antonio Gallo (Kurt Fuller and Stephen Tobolowsky), and persuades his friends to join him as he heads to Hollywood. Roy wants to meet the woman of his dreams, Marilyn Monroe, whom he's learned is working on a new picture, Something's Got to Give. With the help of Roy's Uncle Harry (Joe Pantoliano), they locate Monroe's home and camp out at her gate, hoping to get a glimpse of the glamourous goddess. However, Roy breaks out a reefer to smoke while they attempt to stay up all night (tactical error number one: marijuana does not make you more alert!), and when she slips out without their noticing, the three end up on a mad chase to find Marilyn before she gets away. Meanwhile, the Gallo Brothers have noticed their car is gone, and they are determined to get it back, without much concern for the health or safety of the thief. Calendar Girl was Jason Priestley's first vehicle following his success on the television series Beverly Hills 90210.
Rating:
PG-13
Genre:
, ,
Directed By:
Written By:
On DVD:
Runtime:
Studio:
Sony Pictures Home Entertainment
Critic Reviews for Calendar Girl
Audience Reviews for Calendar Girl
In "Calendar Girl," Roy (Jason Priestley) and a couple of his friends go on a wild goosechase when they find who they think is the real Marilyn Monroe. The three have always had a crush on Marilyn Monroe since they were kids and now they will do anything to meet her in person. However, they have some enemies who they must stay away from while they try to catch Marilyn. "Calendar Girl" isn't a good movie. The reason I didn't like it is because it gets old just watching the three chase Marilyn Monroe the whole movie and mainly because the movie doesn't have good acting. Even the bad guys in the movie are unconvincing as the villains who try to get in Roy's way. I wouldn't recommend watching "Calendar Girl" unless you're real bored and there's nothing else on Tv. When the most memorable part of a movie is a nude scene and people only remember the movie by name because they skip forward to the nude beach scene to check out your buck naked butt, that's never a sign of a good movie. Stick to TV shows, Jason
Jason Owens
Super Reviewer
Finally saw it. A very good movie for the MALE Marilyn devotee, whether that's in a perverted sense, or a truly admirable sense; this movie contains all of the above. For those that are not familiar with it, it's about a group of male-Marilyn fans, mostly 'perverted', who go to Hollywood to try to MEET their "favorite eye candy".
Steve Allister Fraiden
Back when Jason Priestley had a career and before he pulled a Mark Hamill and messed his face up in a car accident.
J K
Calendar Girl Quotes
There are no approved quotes yet for this movie.