Illicit
(1931)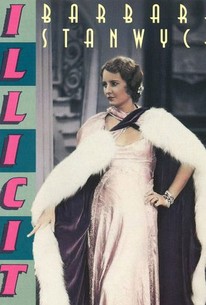 AUDIENCE SCORE
Critic Consensus: No consensus yet.
Movie Info
Few actresses exuded as much raw sensuality as the pre-Production Code Barbara Stanwyck. In Illicit, Anne Vincent (Stanwyck) spends most of her time dressed in a loose-fitting kimono as the mistress of Dick Ives (James Rennie). The couple lives openly in sin because Anne does not believe in marriage, convinced that she could never remain faithful to Dick if they legalized their union. Sure enough, when Annie and Dick do tie the knot, they immediately begin fooling around with others. In the end, however, morality and fidelity prevails -- and about time! Illicit created quite a stir in 1931, not so much because of its half-hearted advocation of "free love," but because of its unconventionally independent heroine (of course, if it had been the hero who was opposed to marriage, no one would have said boo).
Critic Reviews for Illicit
Audience Reviews for Illicit
½
This film starts off strong enough, with Barbara Stanwyck playing James Rennie's lover and some charming early scenes. In a bit of a twist, she's the one not interested in marriage, as she believes it will destroy their happiness. It's clearly a pre-Code (and modern!) premise, and the baby-faced Stanwyck is adorable as she exclaims 'And we're both a riot in our underwear!' while talking about things they have in common. There are also some cute moments provided by their friend, a toper (Charles Butterworth), and when Stanwyck and Rennie are talking on the phone together. The film is not quite as good as it could have been, though, as the plot is predictable (they get married, and sure enough, they both cheat), and the conflicting emotions are not reflected well enough in any of the cast's acting. You have to give it credit for the premise though, and It's worth watching for Stanwyck and Butterworth.
Antonius Block
Super Reviewer
After allowing herself to be pressured into marriage, liberal society girl Stanwyck's fears of the "sacred institution" are realised. She and Rennie are a young couple with much affection for each other who shack up at the weekend unbeknownst to their society peers, or so they think. Butterworth, entertaining in the obligatory drunken buffoon role, informs them that tongues, and disapproving fingers, have begun to wag. Stanwyck is an independent girl and couldn't give two hoots what society thinks of her but Rennie is uneasy; "don't tell me you don't love the pussyfooting" she jokes. When Rennie's father turns up at their hotel room Stanwyck gives into his pressure to conform despite her belief that marriage will put a strain on the relationship. Of course her fears are affirmed as Rennie begins carousing with predatory blond Moorhead. Stanwyck has always been one of my favorite actresses and she's at her sultry best here, prowling around in figure-hugging backless gowns, an ass like a bag of panthers. She became known for playing strong women and in her formative years here she plays as independent a female as could have been represented at the time, standing up to society but ultimately broken by it. Archie Mayo is a forgotten director, wrongly in this writer's view. He directed one of my favorite thirties pictures "The Petrified Forest" where he made stars out of no less than Bette Davis and Humphrey Bogart. Despite the stagey nature of this script, he manages to inject some visual flair into the proceedings. The moment when Stanwyck realises she is being cheated on is handled effectively with a simple tracking shot into her expressive eyes. It's an early role for Joan Blondell too who doesn't get much to do save stand around looking cute, a task she's well up to. Ultimately the mores of it's time halt this movie from realising it's potential but I recommend it for fans of both Stanwyck and pre-coders.
The Movie Waffler
Super Reviewer
Illicit Quotes
There are no approved quotes yet for this movie.
Discussion Forum
Discuss Illicit on our Movie forum!