Cimarron
(1960)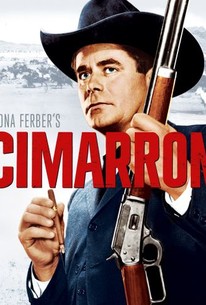 AUDIENCE SCORE
Critic Consensus: No consensus yet.
Movie Info
The Oklahoma land rush of 1889 is the setting for thousands of greedy pioneers attempting to drive native Americans off their land. The film covers a twenty five year period in which Indians are driven from their land and lose oil rights to heartless land grabbers.
Rating:
NR
Genre:
, ,
Directed By:
Written By:
In Theaters:
On DVD:
Runtime:
Studio:
Metro-Goldwyn-Mayer
Critic Reviews for Cimarron
Audience Reviews for Cimarron
Lavish remake of the Oscar winning classic, but it just can't recapture what made the original work so well. Glenn Ford is fine, but Maria Schell just is too bland for such an important role. Decent supporting cast, the art direction is quite good.
James Higgins
Sprawling, epic but overlong western much changed from the excellent novel and not for the better. Sabra, the lead character, was in the book a naive but resourceful woman who became through necessity a tower of strength and who was understanding and willing to lose whatever prejudices she had quickly while forging a life for herself and her children in the wilds of Oklahoma since Yancy, her husband was a born wanderer and would disappear for years at a time. In the movie she's a bigoted simpering harpy. That was her daughter Donna, who is completely missing from the film, in the book apparently they grafted those qualities on to her for the movie. A shame to ruin a great character that way. However the movie does have a good cast and beautiful photograpy, the land rush is very impressive, overall though a disappointment.
[img]http://www.nostalgiabr.com/classicos/cimarron/cima006.jpeg[/img] I think we all could learn a little from Yancey 'Cimarron' Cravat. Here are some life lessons I gleaned: 1. Be a shiftless drifter. People like drifters, especially drifters who smile a lot. Preferred professions to dabble in before drifting: gun slinger, lawyer, newspaper editor, trapper, tanner, prospector, and Rough Rider. 2. Remember, if you drag your newly-wedded wife into the boonies with the promise of free land and an idyllic farm life, and then renege on that promise because the prostitute you used to sleep with claims the land before you, don't despair. Your wife will have her whole life to forgive you. 3. Indians make terrible in-laws, but excellent house cleaners. 4. When you find out the prostitute you used to sleep with - the one who stole your idyllic farmland - still loves you, be sure to strengthen that filial bond, but don't give in to her. It's the only way you're going to force that woman off of her butt and back into whoring. Plus, your wife will have her whole life to forgive you. 5. Speaking of forgiveness - you should forgive the folly of youth, so long as the youth in question is trying to emulate your gun slinging years. 6. When you become bored with your family, it's understandable to leave without so much as a "Bye Y'all" on a post-it note, because post-it notes haven't been invented yet. 7. While on your years-long sojourn, don't forget to send your son a polar bear skin. Polar bear skins make great surrogate fathers. 8. When you return from your years-long sojourn, find out what your uppity redneck oil baron friend has been doing, then use your newspaper influence to sink him because, you know, his evil ways would have really bothered you if you'd been around to see them. 9. If you're offered a juicy job, say a governorship, and your wife wants you to take the job because she's sick of your shiftless lifestyle, but you know that you're only being offered the job because a bunch of rich guys want to control you, you should take the governorship, then subvert their evil intentions and use the power they've given you against them...no wait. You run away. You run really fast, and you don't leave a post-it note. Your wife will have her whole life to forgive you. 10. Your wife will forgive you.
Craig Burgess
Cimarron Quotes
There are no approved quotes yet for this movie.