Arizona
(1940)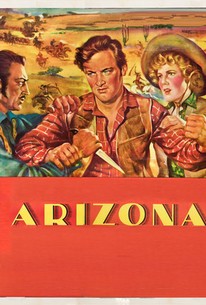 AUDIENCE SCORE
Critic Consensus: No consensus yet.
Movie Info
This epic western is set in Old Tucson and tells the story of its first woman resident, feisty Phoebe Titus. She takes great pride in her toughness until handsome drifter Peter Muncie rides into town. Falling for the wanderer, she exchanges her Tom-boy garb for more feminine accoutrement.
Rating:
NR
Genre:
, ,
Directed By:
Written By:
In Theaters:
On DVD:
Runtime:
Studio:
Sony Pictures Entertainment
Critic Reviews for Arizona
All Critics (2) | Fresh (2) | Rotten (0)
Star power (Jean Arthur and the young William Holden) elevate this routine Western, directed by Wesley Ruggles, better known for helming Cimarron.

It's not as gritty as John Wayne or as romantic as Louis L'Amour, but the flick's a solid enough black & white throwback to keep the Western fans suitably entertained.
Audience Reviews for Arizona
½
Ordinary oater with a quality cast. Jean Arthur seems uncomfortable in her role, she tries too hard to be at home in the western setting and therefore sticks out like a sore thumb. William Holden, still 10 years away from his megastardom, is more at home on the range and while callow makes a believable cowpoke. The rest of the cast is full of reliable supporting players and the script isn't bad although it blows the climax by having it happen off screen. For fans of the stars or westerns it's worth catching but nothing special.
½
A fine western with a terrific cast, particularly Jean Arthur who I normally wouldn't associate with Westerns. Good early work by William Holden. Well made, good production.
James Higgins
½
[font=Garamond][size=3]I'm finally going to do it - I'm making categories for "Indie" and "Western". This completely obscure film has made the choice for me, because it's one hell of a Western. Peter Muncie (William Holden) arrives in Tucson, Arizona after traveling a long and weary trail from Missouri. The minute he gets there, he meets the fiery Phoebe Titus (Jean Arthur), the only white woman in Arizona. He quickly learns that she can take care of herself, as she serves justice at the point of a shotgun. After serenading her by moonlight, Muncie heads off to California, just to see it, and Phoebe goes about building up a freight business and a cattle ranch to have ready for him when he comes back to marry her. A year later, the Civil War has taken away the town's soldiers, and Tucson has fallen into chaos and lawlessness, with its residents living in constant fear of Apache attacks. Then the army returns, and Muncie as well. He's now a Union soldier near the end of his enlistment, and ready to marry Phoebe. But she has an errand for him first: he's to go get her the finest herd of cattle that can be gotten for $15,000. When all her money is stolen by bandits, she borrows from a man named Carteret. She's simply determined to see her ranch succeed. It's only a matter of time before it becomes clear that Carteret's a villain, in league with Phoebe's enemies and with the Apaches, and wanting nothing more than to ruin her. When Muncie returns with plenty of livestock and itching to be married, Carteret makes one final effort to stop it all, but good always triumphs - it's a Western. There's such an allure to William Holden. More than any other actor, he's got distinct eras: the soft, earnest early films like this one and "Our Town" and "Golden Boy", the hard-boiled, cynical middle era of "Sunset Boulevard", "Stalag 17", and "The Bridge on the River Kwai", and his late-life wise but world-weary triumphs "Network" and "The Wild Bunch". This may be shallow on my part, but I like his soft edges, youthful good looks, and unspoiled goodness best, so this film is quite a romantic treat. And yet "Arizona" is definitely a Western rather than just a romantic plotline, and it has surprising depth. Sure, there are cowboys and villains and soldiers and Indians, but they're more than just stereotypes and they all have their role in driving the plot. The film clocks in at just over two hours, but it's never slow or overlong, and plenty happens in that time. The characters are clear-cut and never change much, but that's as it should be, for this genre. And one can't help falling in love with Muncie and hoping for that happy ending. Overall, for a film I'd never heard of with two actors I generally enjoy, this was an unexpected treat - a well-written, well-acted Western with fine characters and a story that keeps it moving along. *Ye gods, he's smoldering! [/size][/font] [img]http://i567.photobucket.com/albums/ss112/medicatherine/arizona.jpg[/img]
Catherine Dodds
Arizona Quotes
There are no approved quotes yet for this movie.