Scared Stiff
(1953)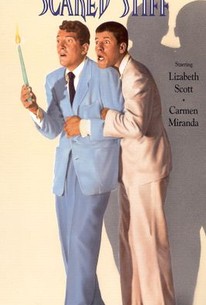 Movie Info
Scared Stiff is the 1953 remake of the 1940 Bob Hope-Paulette Goddard vehicle The Ghost Breakers, reupholstered for the talents of Dean Martin and Jerry Lewis. While Martin handles the straight plot scenes, just as Hope did in the earlier film, the Hope-like wisecracks are fairly evenly divided between Martin and Lewis. Lewis is for the most part relegated to the secondary role played by black comedian Willie Best in Ghost Breakers, with a few opportunities for his manic specialties: his personal highlight is an imitation of Carmen Miranda (who also appears in the flesh). The plot is the same as before: an American heiress (Lizabeth Scott) is warned to stay away from the forbidding Cuban mansion that she's inherited. Disregarding these threats, the girl heads to Cuba, along with Martin and Lewis, who are on the lam from various antagonists (Dean has been falsely accused of murder, while Lewis has run afoul of gangsters). Once they've reached Scott's mansion, Martin and Lewis are confronted by all manner of terrors: a ghost, a zombie, a mysterious assailant (who turns out to be the least likely suspect). It turns out that the mansion is built over a huge cache of hidden gold, which is why the bad guy is so anxious to make Scott and the boys skedaddle. Bob Hope and Bing Crosby make gag appearances toward the end of Scared Stiff; returning the favor, Martin and Lewis would show up unbilled in the Hope-Crosby opus Road to Bali (1953).
Rating:
NR
Genre:
, ,
Directed By:
Written By:
On DVD:
Runtime:
Studio:
Paramount Pictures
Critic Reviews for Scared Stiff
Audience Reviews for Scared Stiff
½
'Scared Stiff' is doubtlessly Martin/Lewis's best comedic effort. A fine, intelligent and yet goofy comedy with two strong comedic leads and a good atmosphere to back it up.
Matthew James
A hilarious film with some great comic moments (both verbal and physical) from both Lewis and Martin. Fun and enjoyable and very funny.
Tim Meyers
I was sure I hadn't seen this one before, but I might have a long time ago. I know the "you can get a blackjack" bit was something my buddy and I used to do a lot. And the bongo scene (with Carmen Miranda's final screen performance) is definitely familiar. Jerry's really funny in this one, and the plot is kinda formulaic but still pretty fun. Bonus surprise Hope & Crosby cameo at the end.
Martin Teller
Scared Stiff Quotes
There are no approved quotes yet for this movie.