The Trial
(1993)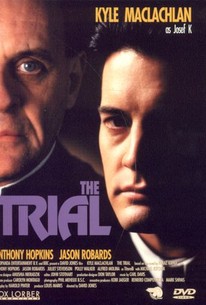 Movie Info
Franz Kafka's classic tale of Josef K., a bank clerk who is placed on trial for an unnamed, unknowable crime, is given a faithful, if not overly literal, treatment in this drama. Knowing only that he has been charged, Josef naturally sets out to defend himself, but soon finds himself deeply mired in a battle against an incomprehensible government bureaucracy. Following Orson Welles's adaptation of the book by some three decades, director David Jones chooses to avoid the earlier film's expressionistic approach. Instead, he sets Josef's travails against a realistic background that specifically recalls Eastern Europe during the early 20th century, the time of the book's writing. Similarly, the screenplay by famed British playwright Harold Pinter, whose own darkly absurd vision owes much to Kafka, hews closely to the original text. This faithful approach helps ground the story in historical reality, and allows for a good use of brooding Prague locations. However, many critics have found this approach less effective than the low-budget abstraction of Welles' version, which is more successful at highlighting the universality and symbolic nature of the tale.
Critic Reviews for The Trial
Audience Reviews for The Trial
½
Did anyone completely get this film? It's possibly one of the strangest films I have ever seen and I've not yet worked out, whether I liked or disliked it. Fans of Anthony Hopkins beware, the dvd cover blatently shows Anthony Hopkins, but he appears in the film for about 5 minutes. This is one you definitely have to make your own mind up with.
Lady D'arbanville
Super Reviewer
The Trial Quotes
There are no approved quotes yet for this movie.