Angels in the Outfield
(1951)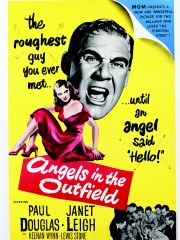 AUDIENCE SCORE
Critic Consensus: No consensus yet.
Tickets & Showtimes
Angels in the Outfield Trailers & Photos
Movie Info
Though not the most profitable baseball comedy ever made, Angels in the Outfield is one of the most likeable and enduring. Paul Douglas stars as Guffy McGovern, the combative, foul-mouthed manager of the Pittsburgh Pirates. With his team in the basement once more, McGovern has plenty to complain about. All this changes when, while wandering through Forbes Field at night, Guffy is accosted by the voice of the Archangel Gabriel (courtesy of an unbilled James Whitmore). As the spokesman for the Heavenly Choir Nine, a celestial ballclub, Gabriel begins bestowing "miracles" upon the Pirates--but only on the condition that McGovern put a moratorium on swearing and fighting. With the help of the invisible ghosts of past baseball greats, the Pirates make it into the Pennant race. During one crucial game, orphan girl Bridget White (Donna Corcoran) insists that she can see the angels helping out the "live" ballplayers--understandably so, since it was Bridget's prayers that prompted Gabriel to visit McGovern in the first place. Newspaperwoman Jennifer Page (Janet Leigh) transforms Bridget's angelic visions into a nationwide news story, causing no end of trouble for McGovern. When Guffy himself confirms Bridget's claims, he falls right into the hands of vengeful sportscaster Fred Bayles (Keenan Wynn), who's been scheming all along to have McGovern thrown out of baseball. Complication piles upon complication until the Big Game, wherein Guffy is forced to rely exclusively upon the talents of his ballplayers--notably "over the hill" Saul Hellman (Bruce Bennett)--to win the pennant. Unlike the spell-it-all-out 1995 remake of Angels in the Outfield, the original film never shows the angels, permitting the audience to draw its own conclusions regarding Divine Intervention. The film is an unqualified delight, never descending into sloppy sentiment or boggy bathos. Understandably, Angels in the Outfield was Paul Douglas' favorite film (though he'd never admit it after President Dwight D. Eisenhower, hardly Douglas' favorite politician, insisted that it was his favorite as well).
more
Cast
News & Interviews for Angels in the Outfield
Critic Reviews for Angels in the Outfield
Audience Reviews for Angels in the Outfield
This original movie is better than its 90s remake, I recommend seeing this one first if you haven't seen the remake, though. It's funny, dramatic, and baseball themed of course. I really liked it.
½
Sentimental 'Angels in the Outfield' can't compare to much more compelling 'It Happens Every Spring'

*** This review may contain spoilers ***

I like to compare 'It Happens Every Spring' with 'Angels in the Outfield' as they were filmed within two years of each other (1949 and 1951), are both about baseball and feature Paul Douglas in key roles. 'Spring' is a vastly superior film in almost every way. The protagonist, Vernon K. Simpson, played by Ray Milland, is a chemistry professor who, as a result of an accident, gains access to a wood repellent formula which he uses to become a star pitcher. It's a great fish out of water story where the introverted professor is thrust into the gruff baseball world, and must prove his mettle amongst street smart ballplayers. Douglas plays ally Monk Lanigan, a catcher who looks after Vernon, but is constantly at odds with him since the star pitcher is determined to keep his identity a secret so that his girlfriend and her father (the dean of the school), don't find out what he is up to.

In contrast, Douglas' role in 'Angels' is virtually a passive one. Here he's 'Guffy' McGovern, manager of the last place Pittsburgh Pirates, who has a chip on his shoulder. Throughout the first third of the movie, he's as mean as the film's antagonist, sports announcer Fred Bayles (Keenan Wynn) who's bitter after being canned as the Pirates' radio announcer at the behest of Guffy. Nothing is endearing or interesting about the Guffy character and one wonders why any club owner would keep such a surly person in charge of a baseball team (he's constantly berating his players after each game due to their poor play). Why is he so mean-spirited? The answer is simplistic: we find out much later on that apparently he was ditched by a woman for another ballplayer in his younger days!

Unlike Ray Milland's pitcher, who must actively overcome personal demons through self-actualized behavior, all Guffy has to do is to listen to an (unseen) angel in the outfield at the old Forbes Field Pirate ballpark advise him to keep his foul language in check and act a bit more graciously toward his fellow man; in exchange, through heavenly intervention, a few of the Pirate miscues in each game are reversed, resulting in the team's sudden improvement in the standings. All it takes is a Pirate winning streak and good old Guffy is no longer playing the part of the team misanthrope. Since Guffy is transformed into a good guy so early on in the film, the internal arc (self-conflict) is resolved.

Now with Guffy 'defanged', the rest of 'Angels' mainly features a polemic in favor of religion, pitted against scientific rationalism. Little Bridget White, a nine year old clairvoyant, is soon trotted out and she's the only one who can actually see the angels in the outfield. Also in the mix is the Mother Superior who's looking after little Bridget at the orphanage (the 'tough as nails' sister, is reminiscent of the nuns in 'The Sound of Music' who spunkily remove a spark plug from a car and prevent the Nazis from going after the fleeing Von Trapp family). Guffy is accused of being flat out crazy and the Commissioner of baseball is called in to determine whether he's acting toward the 'detriment' of the game. A creepy psychiatrist is cross-examined by the ever-belligerent broadcaster Bayles but both are made to look by fools when a Protestant Minister, a Rabbi and Catholic Priest testify in Guffy's defense--they argue that angels are certifiably real since they are referred to numerous times in both the Old and New Testaments.

After Guffy gets into a fistfight with Bayles, the angel concludes that he hasn't quite learned the lesson of 'turning the other cheek'. They'll be no more 'miracles' for the Pirates and they're now forced to win one last game for the pennant without heavenly intervention. Guffy must now put his 'faith' in a veteran pitcher whose performance of late has not been up to snuff. Of course the veteran bears down and ends up winning the game for his fellow Pirates. One additional happy-ending: Guffy will marry newspaper columnist Jennifer Paige (Janet Leigh) and they'll end up adopting little Bridget.

Speaking of Ms. Leigh, in her younger days, she certainly was most pleasing to the eyes--except here has little to do in this film; except perhaps cook dinner for Guffy and hug little Bridget, as the two cheer on the Pirates from the stands.

'Angels' has only one thing up on 'It Happens Every Spring': Many of the scenes were shot at the actual Forbes Field ballpark, effecting a visual verisimilitude the latter film lacks. In addition, 'Angels' sports cameos from both the sports and entertainment worlds including brief interviews with such 'luminaries' as Joe DiMaggio and Bing Crosby.

It's revealed at the end of the film that the angels actually are famous deceased ballplayers such as Babe Ruth and Christy Matthewson. It would have been nice if we could have actually seen the angels and the story would have been enhanced if they were given some kind of personality. Somehow, when we do hear the angel's off screen voice, those scenes don't work precisely because there's nothing happening that's visually interesting.

A good film needs to have both a strong internal and external arc. Unfortunately, there are no twists and turns once Guffy 'sees the light'. Couple that with an antagonist who has no charm, a protagonist who early on is just as surly and a storyline that rather makes an unconvincing case for the ascendancy of religion (i.e. spirituality) in modern life, Angels in the Outfield ends up failing on both counts.

Baseball is hardly the type of arena which should be equated with the world of the spirit. Despite also being a fantasy, 'It Happens Every Spring' has no illusions about the rough and tumble world of our national pastime. Why not catch it instead of the sentimental 'Angels in the Outfield'?
Lewis Papier
Discussion Forum
Discuss Angels in the Outfield on our Movie forum!
News & Features