Heroes Shed No Tears
(1986)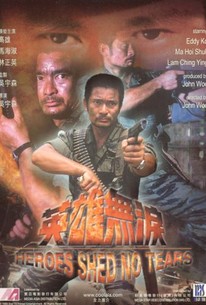 AUDIENCE SCORE
Critic Consensus: No consensus yet.
Heroes Shed No Tears Photos
Movie Info
A group of Chinese soldiers take on a vicious drug lord in Heroes Shed No Tears, an early film from famed director John Woo. The action takes place in Southeast Asia's Golden Triangle, notorious as one of the largest international centers of drug trafficking. As the film begins, an elite commando force is deep within the Triangle, launching an extremely bloody attack on the headquarters of drug kingpin General Samton. The raid ends with the successful capture of Samton -- but that is only the beginning of the their mission. The greater challenge lies in surviving long enough to bring their captive across the border of Thailand. During their journey, the group must struggle against Samton's henchmen and a brutal Vietnamese colonel they encounter along the way. While there is plenty of firepower in evidence, many of the action sequences lack the same level of elegance and style as Woo's later work. Instead, the film veers between moments of slapstick and horrific brutality of war in a fashion that would be more successful in his later Bullet in the Head.
Audience Reviews for Heroes Shed No Tears
½
Shot in 1984 and immediately shelved by Golden Harvest "Heroes Shed No Tears" is a decent foreshadowing of future John Woo endeavors following the runaway success of "A Better Tomorrow" (1986). A group of Chinese mercenaries are sent deep into the Golden Triangle to extract a Thai drug czar in exchange for U.S. citizenship. Woo seemingly lifts his crude aesthetic from an Italian cannibal film though lead Eddy Ko Hung is unpretentious in his motives and the scenes that pair him with his on screen son -- supposedly inspired by Japan's "Lone Wolf and Cub" serials -- are the best sequences the low budget action film has to offer. Despite Woo's tenure in martial arts filmmaking he's in way over his head here but at least it's entertaining. Lam Ching-ying, in one of the late actor's most unforgettable performances, co-stars as a Vietnamese general without ruth ad nauseam.
Adam Laidig
½
This is John Woo's most brutal and with an arsenal of explosive mayhem, he pulls out all the stops to show the true hell of war. The plot of the film is very similar to Sammo Hung's Easter Condors in that both films deal with mercenaries who are sent to Southeast Asia on a secret mission. It's in the tradition of films like The Deer Hunter and Apocalypse Now. Ching Ying Lam was very convincing as the cruel and sadistic Vietnamese officer. The torture scene involving Eddy Ko was the most brutal one ever done by Woo.
Dean McKenna
Super Reviewer
An absurd ripoff of Lone Wolf and Cub with more explosions per minute than your average Joel Silver production. John Woo is beginning to revel in his slow-mo blood fetish at this point in his career. Clearly, all the exploding squibs are meant to represent "money shots" and the truest love is on the battlefield. Which is why the lone hetero sex scene is so awkward and inept compared to the dozens of gun battles. You can almost feel Woo squirming behind the camera, anxious to get on and abuse some more underpaid stuntmen.
Kevin McCormick
Heroes Shed No Tears Quotes
There are no approved quotes yet for this movie.