The Three Musketeers
(1921)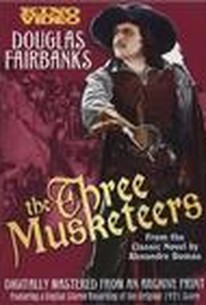 The Three Musketeers Photos
Movie Info
In this rendition of the Alexandre Dumas swashbuckling classic, D'Artagnan moves through the extravagant sets and beautiful costumes in total silence. One of the more faithful adaptations of all of the versions of Dumas' classic, this is prime Fairbanks, who also produced the movie.
Critic Reviews for The Three Musketeers
Audience Reviews for The Three Musketeers
½
This 3 Musketeers movie is just like all the others, no surprises here, it's no better and no worse than any other. Overall it is pretty fun and entertaining, but it's long and has a bunch of boring scenes with the queen and duke and other characters. It could have been better.
This film is faithful to the novel, although it's a very condensed version, even at a hair short of two hours. That's understandable since a completely faithful adaptation would have to be at least three times this long. Douglas Fairbanks is perfect as D'Artagnan, aside from the fact that he's obviously much older than the character he's playing. That's just it, though. Though D'Artagnan's age is never specifically mentioned, Fairbanks defies the obvious age of his own age to convey that he is a boy on the brink of manhood. The eager twinkle in his eye almost makes you believe that he's eighteen and struggling to make his place in the world. Most importantly, Fairbanks really captures the impetuous nature of the D'Artagnon from the novel. The stunts here aren't as spectacular as the earlier year's Mark Of Zorro, or the subsequent Robin Hood, but they bring D'Artagnan's adventures to life. Mostly it's just Fairbanks' child-like style of fencing, consisting of the actors banging their swords together, with Fairbanks always coming out the victor. I believe this may be the first time he is seen to fence with multiple opponents at once. Like in Zorro, he bounds over tables, chairs and other obstacles, often backwards, never taking his eyes off his opponent. Both Fairbanks and Musketeer fans should be pleased with what is presented here. The only way it could have been better would have been if Fairbanks had produced a trilogy based on the entire novel.
Paul Savell
The Three Musketeers Quotes
There are no approved quotes yet for this movie.
Discussion Forum
Discuss The Three Musketeers on our Movie forum!