Robin Hood
(1922)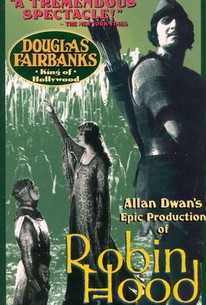 Movie Info
Robin Hood, Douglas Fairbanks' biggest (though not necessarily best) production of the silent era, represents the first time that many familiar of the elements of the Robin Hood legend were presented on screen. To bring the project to full fruition, Fairbanks and his wife Mary Pickford purchased the old Jesse Hampton studio in Santa Monica, and on that site constructed a near-lifesized replica of 12th century Nottingham. The humongous castle set was so awesome that Fairbanks became worried that his own performance might be dwarfed. It wasn't: take our word for it. When first we meet Robin Hood, he is still the Earl of Huntington, preparing to joust with his bitter enemy Sir Guy of Gisbourne (Paul Dickey). Despite Sir Guy's propensity for cheating, the Earl is victorious. Shortly thereafter, Huntington rides off to the crusades with Richard the Lionhearted (Wallace Beery). Upon learning that Prince John (Sam De Grasse), goaded on by Sir Guy, has usurped his brother Richard's throne, Huntington returns to Nottingham in a new guise: dashing righter-of-wrongs Robin Hood. While robbing from the rich, giving to the poor, and bedevilling the villains, Robin romances the fetching Maid Marian (Enid Bennett). The film's singular highlight is Fairbanks' slide down a two-story tapestry, a bit of bravado accomplished by hiding a playground slide behind the huge cloth. As in all of Fairbanks' films, Charlie Stevens, a grandson of Geronimo and Doug's "mascot", appears in several minor roles. Also appearing is Alan Hale Sr. as Little John, a role he'd repeat in the 1938 Errol Flynn Robin Hood, not to mention the 1950 swashbuckler Rogues of Sherwood Forest. Long thought lost, Douglas Fairbanks in Robin Hood (as the film was so copyrighted) was rediscovered in the early 1960s. Most current prints fail to do justice to Arthur Edeson's glistening photography; also, some versions are stretch-framed to slow down the action to "normal" speed, a process that retards the marvelously fast pace instilled by star Fairbanks and director Allan Dwan. We recommend that you seek out a good-quality, tinted print of Robin Hood, processed at the slightly faster-than-life speed at which it was originally filmed.
News & Interviews for Robin Hood
Critic Reviews for Robin Hood
Audience Reviews for Robin Hood
Douglas Fairbanks. Leaping. Running. Jumping. Swinging. Climbing. Fighting. If there's a more flamboyant way to do a thing then (count on it) that's the way he'll do it. Every entrance is big. Grand. Sweeping. Big. Bigger. Biggest. It's parody nowadays. And yet. The grandeur and heroism of this tale cannot be denied. That it set precedent for every action/adventure tale since ... ever, is a hard point to quibble, as well. Pretty darn good for a little guy from Denver, CO, eh?
Kevin M. Williams
Super Reviewer
½
While working on Ken Ludwig's new comedy A Comedy of Tenors, which takes place in Paris in the late 1930s, I became curious to see this version of the Medieval legend since one of the characters mentions multiple times that he wants to be like Douglas Fairbanks in Robin Hood. It appears that there are several cuts of various lengths. The DVD I borrowed was an hour and fifty minutes. I think that over half of that run time was exposition. Having seen two other Fairbanks silent action flicks I expected more to happen and more appearances by the title character. Instead, Fairbanks as a rich Earl proves himself to King Richard in a joust. The Earl is nearly as chaste as Maid Marian but then they begin to fall in love. In a nice visual she outlines his silhouette to remember him. The Earl earns the scorn of Gisbourne and Prince John (the splendidly evil Sam De Grasse). Then we follow the King and his knights as they leave for the Crusades. Wallace Beery is very good as King Richard, but I'm not familiar with any other version of the story that spends so much time with the King. Prince John abuses the people and sets in motion a plan to kill the Earl and the King before they return. After more complications, the Earl and his loyal servant Little John (Alan Hale, who would play the same role 16 years later opposite Errol Flynn) finally return to right wrongs and recruit merry men in Sherwood Forrest. You can tell they are merry because they skip and leap everywhere with sweeping gestures. With so much exposition this Robin Hood becomes less about his catch phrase "I steal from the rich and give to the poor." Instead, this rebel character symbolizes the soldier who realizes there are more pressing problems to address at home rather than wiping out infidels in far off countries. Douglas Fairbanks under a pen name is given story credit here as well. There are only a couple well choreographed chases and fights, including Robin bringing swift justice to the vile Gisbourne, that bring some much needed excitement to the final quarter of the film. The outdoor shots and the amazing castle set support a capable cast in this silent with a lot of "talking" through title cards, but as I said before it needed more action and more Robin Hood.
Byron Brubaker
Super Reviewer
The best Robin Hood movie I've ever seen! Fairbanks is perfect for the role, and I'm glad he played it. He wrote it too, which is cool, I loved how we got to see how he became Robin Hood and what was going on in medieval times. The sets, costumes, and everything was really spectacular. I loved this movie.
Robin Hood Quotes
There are no approved quotes yet for this movie.