Witches of Salem
(1957)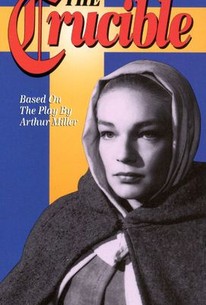 AUDIENCE SCORE
Critic Consensus: No consensus yet.
Movie Info
American playwright Arthur Miller was still under an "unfriendly" cloud in 1958, so far as the anti-Communist brigades were concerned. Thus, the film version of Miller's stage play +The Crucible was lensed in France. Drawing several parallels to the McCarthy era, Miller dramatizes the Salem Witch Trials of the late 17th century, when hearsay, rumor, and mass hysteria passed for hard evidence. Given an opportunity to escape being hanged for witchcraft, John Proctor (Yves Montand) refuses to bow to the demands of the so-called justices. Many observers felt that this climactic scene was an act of contrition for Arthur Miller, who was (by his reasoning) not nearly so courageous when grilled by the HUAC. Also known as The Witches of Salem, The Crucible was adapted for the screen by Jean-Paul Sartre.
News & Interviews for Witches of Salem
Critic Reviews for Witches of Salem
There are no critic reviews yet for Witches of Salem. Keep checking Rotten Tomatoes for updates!
Audience Reviews for Witches of Salem
The first film version of The Crucible, made by the French because of course no American who feared for his own safety would have filmed it during the period of the McCarthyist 'witch hunts.' Though the film is still set in 1692 Massachusetts, it feels very European - obviously influenced by Dreyer, though Rouleau isn't as cinematically fluent a director. Having performed in the play The Crucible, I find it extremely hard to distance myself from it enough to judge this film adequately. The performances are good, though; Montand and Signoret are strong lead performers, and Mylene Demongeot, with whom I'm not familiar, is fantastic as the lustful, crafty Abigail. Jean-Paul Sartre adapted the play for the screen, and, aside from some preachiness and banality, he writes a film of great power. A very effective film of religious people who, through their own overzealousness to conform, ultimately bring about their own hell.
Harry E
How is it that a great writer can do an adaptation of another great writer's greatest work? I mean, Sartre writing Arthur Miller? How much better can you get? I watched this movie for a class presentation. I wasn't expecting to absolutely love it. It is a different movie than the play version in the sense that different characters choose ifferent endings. There is also a very different subplot and epilogue to the story. Proctor still dies, but the restults are very different. I think that this movie has the most power out of the different productions of the film because this is a movie that was released at the same time as Miller's original work. Miller was trying to unveil McCarthyism. Sure, this movie couldn't have been made in America, but it's interesting to see how the French react to our political situation. The performances in this movie are perfect. While I do appreciate Daniel Day-Lewis and will always be a big fan, this is a very rooted and honest film. There isn't the "classic" approach to film. The story is still new. This is the adaptation of a best seller. There is a real evil to Abigail Williams in this story. We see Winona Ryder in the 90's version have a hint of malice behind her, but the actress in this film really thinks that what she is doing is right. That's insane to me. Honestly, the people of the '50's weren't cackling to themselves over their ignorance. They were real and thought of covering their own asses. What's changed in society? Dark, huh? It is a bit too long of a movie, but I'm really okay with that. It's a real insight, again, to see how other countries adapt U.S. problems. If for nothing else, watch this movie. It is enjoyable, but it is a heck of an eye-opener.
Tim Hruszkewycz
Witches of Salem Quotes
There are no approved quotes yet for this movie.
Discussion Forum
Discuss Witches of Salem on our Movie forum!