Milk Money
(1994)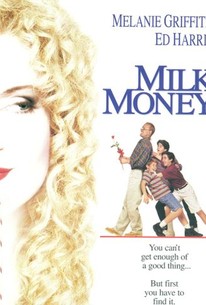 Movie Info
After befriending a kind-hearted prostitute, a 12-year-old boy attempts to set her up with his widowed father in this family comedy. Young Frank Wheeler (Michael Patrick Carter) first meets working girl V (Melanie Griffith) when he and two friends pool their money to buy a glimpse of a naked woman. V does the job and agrees to drive Frank home; along the way, he becomes convinced that this nice call girl would be the perfect new wife for his dad (Ed Harris). V happens to be on the run from a group of evil gangsters, so when he invites her to stay at their house in the suburbs, she readily agrees. Masquerading as a math tutor, she strikes a chord with Mr. Wheeler, but this budding romance is soon threatened by the return of V's past. Despite the potentially off-color premise, Milk Money aims to be innocuous family fare, with juvenile jokes mixing with unthreatening romance.
People Who Like this movie also like
Critic Reviews for Milk Money
Audience Reviews for Milk Money
A weak and silly romantic comedy with bad guys. A Pretty Woman that brings a bad script with boring couple.
Lucas Martins
Super Reviewer
You can't get enough of a good thing... But first you have to find it.
"Milk Money" is a comedy/drama about a group of boys who save up money so they can see a naked woman. They find V, a hooker who is short of money and trying to get away from the one she works for. She stays awhile in Frank's treehouse until she can get her car to working again. V (Melanie Griffith) begins to like Ed Harris after Frank tells her a lie about what his dad said about what she does for a living. I recommend anyone to see "Milk Money." It has a few funny parts to it, but it's more of a drama movie. And it's a good one at that. It's a good story of how a struggling hooker and a normal, everyday man try to sort out their differences while a young boy tries to keep them together. NOTE: That was my Amazon review from the year 2000. I've watched this one several times and like it each and every one.
Jason Owens
Super Reviewer
Milk Money Quotes
| | |
| --- | --- |
| V: | Nobody's treated me the way you do. |
| Tom Wheeler: | How do I treat you? |
| V: | Like a person. |
| Tom Wheeler: | How does everybody else treat you? |
| V: | Like a hooker. |
| Tom Wheeler: | Why do they treat you like that? |
| V: | Because I am hooker! |
| | |
| --- | --- |
| V: | I need a hundred bucks or I'm gonna get slapped, you think you can do that? |
| Frank Wheeler: | Here, take it. |
| V: | Where'd you get all this money? |