Brigham Young
(1940)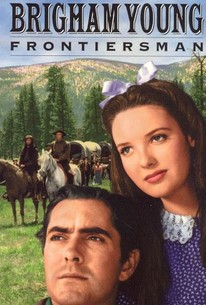 AUDIENCE SCORE
Critic Consensus: No consensus yet.
Movie Info
Inspired by the true story of the leader of the Mormon Church, this film features Dean Jagger in the title role. The members of the Church of Latter Day Saints are subjected to religious persecution by the people of Nauvoo, Illinois, where they've settled; so under the leadership of Brigham Young, the Mormons head west, facing tremendous adversity along the way. However, a gravely ill Young has a prophetic dream in which he sees what he believes is his people's promised land, where they will be allowed to live and worship as they see fit. Soon they discover the land Young saw in his dream -- Salt Lake City, Utah. Young and his followers settle there, but their hardship does not end soon. The first winter in Utah is cruel, and while the spring brings the promises of a bountiful planting season, soon a plague of locusts appears, threatening to devour the crops the settlers have just planted. A huge flock of seagulls arrives to save the day by consuming the insects. Tyrone Power and Linda Darnell play a pair of settlers who fall in love in the course of the journey. Brigham Young downplays the more controversial aspects of the Mormon church (particularly polygamy) in favor of portraying Young as a trail-blazing man of the land; in some markets, the film was shown as Brigham Young, Frontiersman.
Critic Reviews for Brigham Young
There are no critic reviews yet for Brigham Young. Keep checking Rotten Tomatoes for updates!
Audience Reviews for Brigham Young
Indians can't be any worse than some Christians I know The Mormons that reside in Illinois are constantly under the attack by the locals that do not understand their beliefs. The leader of the Mormons, Joseph Smith, is killed for speaking on behalf of his religion. The successor, Brigham Young, elects to move the Mormons to California where many seek hope and wealth. Unfortunately, there are great mountains between California and the Midwest. Young elects to settle in the mid west which is low on resources but high in abundance of space for his people to settle. Young will need to face climate, weather, and non-believer obstacles if he ultimately hopes to become successful. "Joseph Smith, a half educated boy just like you and me." Henry Hathaway, director of True Grit, Hangup, Shoot Out, Nevada Smith, Circus World, From Hell to Texas, Rawhide, Kiss of Death, China Girl, Go West Young Man, and Johnny Apollo, delivers Brigham Young. The storyline for this picture is interesting and educational. I thought the end was creative and unpredictable. The cast delivers perfect performances and includes Vincent Price, Tyrone Powers, Linda Darnell, John Carradine, and Dean Jagger. "Looks like we burned our bridges behind us." Brigham Young grabbed my attention when I saw it starred both Vincent Price and Tyrone Powers. Price was barely in this film, and Tyrone Powers plays a sub character, but the film was still entertaining and well paced. I recommend giving this picture a shot if you're a fan of movies from this era. "Time to go wolf hunting." Grade: B+
Kevin Robbins
Dunderheaded junk about the beginnings of Mormonism.
I heard Vincent Price was in this movie, so I wanted to see it, but (this isn't a spoiler) he dies in the beginning of the movie! I was so disappointed. Then, this movie seems to be an advertisement for the Mormon church or something, but without telling of their more radical beliefs. This movie just skims the surface, and it doesn't even do a good job of that.
Brigham Young Quotes
There are no approved quotes yet for this movie.
Discussion Forum
Discuss Brigham Young on our Movie forum!