The Phantom
(1931)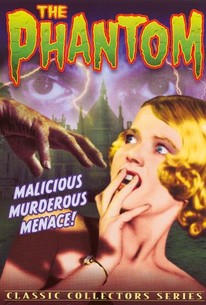 AUDIENCE SCORE
Critic Consensus: No consensus yet.
Movie Info
A largely forgotten comedy-chiller in the tradition of The Cat and the Canary, Artclass Pictures Corp.'s The Phantom emerges as one of the loonier films of the early sound era. Sans his nickname "Big Boy" and the usual B-Western regalia, Guinn Williams stars as nervy reporter Dick Mallory who, along with the district attorney's (Wilfred Lucas) daughter Ruth (Allene Ray), goes in search of The Phantom, a masked killer whose recent jailbreak is alarming the citizenry. They find him running an insane asylum (a rather appropriate place for a deranged killer), but not before a series of encounters with Swedish-accented domestics and the usual thick-headed police officers.
Critic Reviews for The Phantom
Audience Reviews for The Phantom
The Phantom follows in the tradition of films like Old Dark House and The Bat Whispers, but it comes up short when compared with the two. The film has horrible dialog and even worse acting. It could hardly hold my interest for the hour long running time. The film revolves around a small group of people that are being terrorized by an escaped masked killer known as the Phantom. Thats it. There is nothing more to the story. In the beginning of the movie you get to watch the daring escape from the prison, which proves to be the most action packed part of the movie. It is one of the wort prison escape scenes ever. Skip this one. Its not worth your time. This movie should stay on some shelf in a studio somewhere collecting dust. Rating: 1 of 10 S!D
Brandon Siddall
Super Reviewer
This movie has some stupid characters, and it's kind of annoying, and not well made, but the mystery has a strange ending, which makes you feel a little better about having watched the whole thing.
The Phantom Quotes
There are no approved quotes yet for this movie.