David and Goliath
(1961)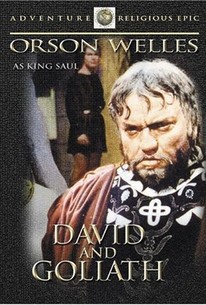 AUDIENCE SCORE
Critic Consensus: No consensus yet.
Movie Info
Very loosely based on its Biblical source, this standard Italian sword-and-sandal action film stars Orson Welles as an intense, inward-turning King Saul, deteriorating at the same time that David is rising in renown. The shepherd David (Ivo Payer) is sent to the Israelite forces with supplies for his older brothers when he first discovers who Goliath is -- the giant over nine feet tall that challenges any single warrior to meet him one-on-one in battle. If someone takes up his challenge, it would decide whether the Israelites or Philistines are victorious in their current stand-off. David's one-shot victory turns the tide and hastens Saul's decline. The monarch's lithesome daughters Merab and Michal are played by Eleonora Rossi-Drago and Giulia Rubini, his son Jonathan is portrayed by Pierre Cressoy, and Goliath by Kronos, a muscular "giant" of European circus and music hall circuits.
Rating:
PG
Genre:
,
Directed By:
Written By:
On DVD:
Runtime:
Audience Reviews for David and Goliath
David and Goliath (1961) ?? Ham handed film version of David and Goliath story suffers from wooden acting and bad writing. Terrible but funny.
Tanner Bartko
For lack of nothing better to do, I've decided to talk about three films I saw yesterday, [i]David e Golia[/i], [i]Blackmail[/i], and [i]Shaun of the Dead[/i]. [b]:rotten: David e Golia (1960)[/b] Written by Gino Mangini, Ambrogio Molteni, Emmimo Salvi, and Umberto Scarpelli Directed by Ferdinando Baldi, Richard Pottier, and Orson Welles (uncredited; his own scenes) [center][img]http://www.atlanticdvd.com.au/product_images/large/david_goliath.jpg[/img][/center] An Italian film with all the Italian dialogue dubbed into English as well as with some English-speaking characters. Odd. Anyway, onto [i]David e Golia[/i], AKA [i]David and Goliath[/i], the classic Bible story of a small man going up against a really big one and consequently winning a war. That I've given the ending away is nothing unless you're one of the very few not familiar with the tale (even an atheist should know it like the back of his hand). You won't want to watch the film anyway. Starring Ivo Payer as David, and somehow, [i]somehow[/i] Orson Welles as King Saul, [i]David e Golia[/i] is not the greatest retelling of the story you'll ever find. Well, actually, it's the [i]only[/i] retelling I've ever found, but there's got to be a better one out there. There'd almost have to be. The film starts out in a very dull fashion with a wiseman spouting prophecy...not fun, black-and-locust plague prophecy, just boring stuff about kings. From there on, it doesn't get much better. The costumes are neat (a tad too colorful for the time period, maybe), but the production values are less than average. The acting is extremely subpar, even from Welles...though he does much, much better than anyone else. The dubbing sucks, and the dialogue is terribly corny. A corn and cheese souffle of biblical proportions. 2/10 :rotten: [b]Blackmail (1929)[/b] Written by Michael Powell (uncredited), adapted by Alfred Hitchcock, with dialogue by Benn Levy, based on the play by Charles Bennett Directed by Alfred Hitchcock [center][img]http://www.sea.fi/foto/blackmail.jpg[/img][/center] Originally shot and conceived as a silent film, but then later partially reshot and reworked to be England's second sound production, [i]Blackmail[/i] is a visually exquisite film for the 1920s, but fails to impress much upon its audience, even if it was directed by the Master himself, Alfred Hitchcock. [i]Blackmail[/i]'s first half starts out plodding and rather dull, but finally manages to snag its audience, hooking them when their heroine, Alice White (Anny Ondra) stabs and kills a man sexually harrassing her, and possibly attempting to rape her. This is all done very stylishly by Hitchcock, and is a terrific sequence. After that, though, not a lot happens. Even though Hitchcock is undoubtedly one of the most talented filmmakers in the history of cinema, it's obvious that since [i]Blackmail[/i] was presented in a new format, that of the talkie, he's feeling his way around, toying with it, and seeing what works and what doesn't. In essence, it's nothing more than an experiment, one that is interesting and probably helped Hitchcock along, but which isn't that great from a cinematic perspective. Plus, some of the silent bits are kept, which just doesn't fit, especially since we're not given the dialogue. [i]Blackmail[/i] is a rather convoluted, cluttered film, struggling within the boundaries of a new technique, and it's not bad, per se, just not that good. As we all know, though, ol' Hitch got a lot better. 5/10 :fresh: [b]Shaun of the Dead (2004)[/b] Written by Simon Pegg and Edgar Wright Directed by Edgar Wright [center][img]http://us.movies1.yimg.com/movies.yahoo.com/images/hv/photo/movie_pix/rogue_pictures/shaun_of_the_dead/simon_pegg/shaun1.jpg[/img][/center] [i]Shaun of the Dead[/i] is created by zombie movie lovers for zombie movie lovers, but it's also perfectly accessible to those not at all familiar with the genre, which is one of its charms...one of many. The film follows Shaun (co-writer Simon Pegg), an electronics store worker whose girlfriend Liz (Kate Ashfield) has just dumped him, whose best friend and flatmate Ed (Nick Frost) is constantly dragging him down, and whose life is going absolutely nowhere, especially considering he's 29. When legions of the undead start sprouting up over the whole of London, Shaun takes charge to battle them...with a cricket bat. This is my third time watching [i]Shaun of the Dead[/i], and it just keeps getting better. It's a film that can withstand numerous viewings and which is very much worth getting obsessed over. It has a dry British wit mixed with some of the most gruesome onscreen moments in recent memory, and touched up by the best elements of human drama. It sports a fantastic screenplay that encompasses an entire range of human emotions, both for its characters and its audience: Laughter, terror, grief, and above all, hope. For at the end of the day, hidden beneath its laugh-a-minute gutbusting and, well, actual guts busting, is a social message that George A. Romero would be proud of. You can only rise up to life's challenge and beat it when you embrace life with zest and enthusiasm, becoming more than a zombiefied human going through the regular dull routine. A wonderful, highly recommended horror-comedy that will have you laughing, screaming, and even pushed to the edge of tears. The absolute best of its kind in many a bloodstained moon. 10/10
AJ Wiley
David and Goliath Quotes
There are no approved quotes yet for this movie.
Discussion Forum
Discuss David and Goliath on our Movie forum!