The Sphinx
(1933)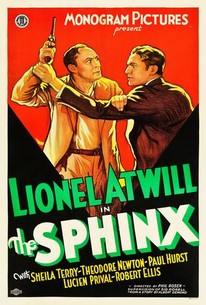 AUDIENCE SCORE
Critic Consensus: No consensus yet.
Movie Info
A brutal murder has been committed, and an eyewitness has placed wealthy philanthropist Jerome Breen (Lionel Atwill) at the scene of the crime. The prosecution's case hinges on the witness's insistence that Breen approached him and asked for the correct time. But the defense proves beyond a shadow of a doubt that Breen could not have spoken to anyone: Not only has the man been a mute since birth, but his vocal chords have been severed! When several more murders occur, reporter Jack Burton (Theodore Newton) begins to get suspicious, but his sob-sister sweetheart Jerry Crane (Sheila Terry) believes in Breen's innocence and even starts dating the charming, nonverbal millionaire. Only at the end of the film is Breen's horrible secret revealed -- and this could mean curtains for our heroine, who while idly playing Breen's piano has stumbled onto the most damning piece of evidence against her host. Once one of the rarest of the early-talkie "B" melodramas, The Sphinx was happily rediscovered in the mid-1970s. While the director creaks a bit, and though the romantic leads are dull as dishwater, the picture is a gem, with Lionel Atwill at the height of his villainous powers. The film was remade in 1941 as The Phantom Killer, with John Hamilton ("Perry White" on TV's Superman) inadequately cast in the Atwill role.
Rating:
NR
Genre:
, ,
Directed By:
Written By:
In Theaters:
On DVD:
Runtime:
Studio:
Monogram
Audience Reviews for The Sphinx
½
A decent little mystery film but it doesn't offer a whole lot and doesn't have too solid of an ending. There's not much to the characters and it gets a bit slow in a few scenes.
Wes Shad
½
Stock brokers are being murdered and eye-witnesses are certain the killer is Jerome Breen (Atwill), because he took the time to chat with them as he casually strolled away from the crime scene. However, Breen can't be the killer, because he is deaf-mute who was born unable to produce any sound at all. Will bumbling police inspectors (Ellis and Hurst), together with crimebeat reporter Jack Burton (Newton) be able to unlock the secrets behind the murders? More importantly, will they solve the mystery in time to prevent Burton's wouldbe lady love (Terry) from joining the list of those murdered? "The Sphinx" is a straight-to-the-point murder mystery with a twist that all but the most inexperienced mystery fans will see coming. In fact, I think the best audience for this film today is to use as a gateway to other classic mystery films for kids who are reading "The Three Detectives", "Nancy Drew" or "The Hardy Boys" (or whatever more contemporary counterparts they may have in the kid's section of the local bookstore). It's a fast-paced film that crams two hours worth of plot into a one-hour running time. Another thing to recommend this film as an entry point is the characters. While the 1930s stock characters are here--dumb Irish cops and fast-talking tough-guy reporter as the heroes/comic relief, the plucky girl society columnist who will become the damsel in distress, and so on--they feel a little more real than in most films. More importantly, none seem as obnoxious as they sometimes do in these films, partly due to the inherent charisma and on-screen chemistry of all members of the exeptionally talented cast, but also because each character is given a bit more depth than is often the case. (For example, the hard-bitten reporter is shown to have respect for the cops even while ribbing them, and to have genuine feelings and a purely human reaction when his would-be bride turns her back on him.) "The Sphinx" is by no means a classic, nor is it one that hardcore mystery fans are likely to be overly impressed by. It's got a good cast, and decent script, but the solution to mystery is one that they're likely to see coming. It might not be a bad little movie to show to the right kid, however. For more information and other reviews of this film, [url="http://www.amazon.com/gp/product/B00008G8WT?ie=UTF8&tag=stevemillesdo-20&linkCode=as2&camp=1789&creative=9325&creativeASIN=B00008G8WT"]visit the Amazon.com listing by clicking here[/url]. The Sphinx Starring: Lionel Atwill, Theodore Newton, Shiela Terry, Paul Hurst, Robert Ellis and Lucien Prival Director: Phil Rosen
Steve Miller
The Sphinx Quotes
There are no approved quotes yet for this movie.