The Crusades
(1935)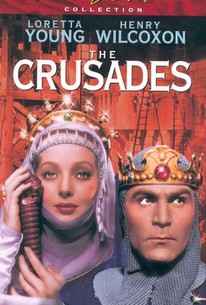 AUDIENCE SCORE
Critic Consensus: No consensus yet.
Movie Info
The Holy Wars are given the usual overblown Cecil B. DeMille treatment in The Crusades. It all begins in the 12th-century AD, when Jerusalem falls into the hands of the Saracens, and the Christians are slaughtered or sold into slavery. A holy man known as The Hermit (C. Aubrey Smith) rallies the rulers of England and Europe to launch a Crusade to reclaim Jerusalem in the name of Christianity. Among those embarking upon this massive undertaking is England's King Richard the Lion-Hearted (played as a swaggering roughneck by Henry Wilcoxon), who finances his knights by marrying wealthy French princess Berengaria (Loretta Young) sight unseen. Saladin (Ian Keith), the elegant and well-spoken ruler of the Saracens, attempts to stave off the crusaders by kidnapping Berengaria and holding her hostage. Sensing that he can never win against so formidable a collection of foes, Saladin eventually opens the gates of Jerusalem to all but Richard the Lion-Hearted, with whom he has a personal score to settle. In the film's most memorable scene, the fundamental difference between the boorish Richard and the cultured Saladin is demonstrated when the Saracen ruler delicately cleaves Berengaria's silk scarf in twain with his gleaming sword. It took a great deal of nerve to depict the film's hero as a thuggish brute and the nominal villain as the most sympathetic character in the story, but DeMille gets away with it in The Crusades, and still has time left over to deliver his usual quota of thrills, pageantry, convoluted history and campy dialogue. And yes, that is Ann Sheridan as a Christian captive in the opening scenes.
Critic Reviews for The Crusades
All Critics (3) | Fresh (3) | Rotten (0)
Blowzy inaccurate medieval era epic on the Holy Crusades is pure Hollywood balderdash, nevertheless it's an immensely fun spectacle.

Ozus' World Movie Reviews
Audience Reviews for The Crusades
another religious epic from epic master CB DeMille & as a sidenote my mom loved his films and showed many to me when I was young.
Greg Wood
½
Watching "The Crusades" I alternate between cringing at the glaring ignorance and disregard of history and the ridiculous activities proceeding on screen and being amazed at the grandeur of the spectacle and some of the masterfully composed shots.
Michael Harbour
½
I admit I'm a fan of Cecil B. DeMille. Nevermind that his films are usually viewed as being overblown spectacles directed as if the the Silent Era never ended at all. His film's had that visual flair that I like. Yes, I suppose you can say I like kitsch. DeMille's 1935 epic, THE CRUSADES is no exception. There are scenes that look like paintings out of the classical period of art. It's too bad that this was made during the enforcement of Hollywood's Hays Code, which makes THE CRUSADES tame in comparison to SIGN OF THE CROSS (1932) because of it. When Saladin (Ian Keith) and his Saracen forces capture the ancient city of Jerusalem - he imposes Muslim rule to the holiest of Christian cities. A hermit (the venerable C. Aubrey Smith) is the most vocal foe of Saladin. Saladin spares his life and challenges him to try to rally the christian forces of the european kings. I suppose it took him years, but the hermit manages to do just that - all the kings of europe are united and vow to oust Saladin. The hermit has but one more king to implore - Richard I of England. Thanks to other films like ROBIN HOOD, I guess I also had a preconceived, romanticized notion of English monarch Richard I (The Lionhearted). I didn't expect an uncouth and godless oaf of a man as portrayed by Henry Wilcoxon here - which actually was a pleasant surprise. King Richard would just as soon carouse with his troops than sit on his throne. If you are to believe this movie, the motivating factor which causes King Richard to undertake The Crusades is so he can escape from a prearranged marriage with Princess Alice (Katherine DeMille) of France. I'm not sure why, though, because Princess Alice was a babe (the lovely Katherine DeMille was actually Cecil B's adopted daughter, btw - I had to look that up). King Richard and his troops manage to make it as far as the French port city of Marseille, where they are to board ships for the Middle East - but for one detail. They have run out of food. The King of Navarre (George Barbier) has enough cattle to feed Richard's army but will only agree to give them to him if only he marries the princess of Navarre, Berengaria (Loretta Young). Richard reluctantly agrees, but is advised of a possible loophole by a monk. The so called "marriage" scene is a hoot. Not sure why actor Henry Wilcoxon is not a bigger name. He had that rugged look to him that would lend itself to leading roles. I thought he was enjoyable here as Richard, The Lionheart (I found it amusing every time that Saladin refers to hims as the "Lion King".) I think the main focus of the story here is actually Richard...and how he is able to find God along the journey. The religious angle is something DeMille never let's you forget about. There are battle scenes, of course - and the seige of the city of Acre looks especially impressive despite being filmed inside a sound stage and intercut with miniatures. Another battle scene comes out looking cartoonish at first - as hundreds of horses from each side race towards each other at full gallop. I expected to hear a big KABOOM when they finally meet. Loretta Young gives her all despite some of the hokey lines she is forced to say. I guess everyone has hokey lines here. It's a DeMille film after all. But the sets and costumes are sure impressive. 7.5
bernard anselmo
The Crusades Quotes
There are no approved quotes yet for this movie.
Discussion Forum
Discuss The Crusades on our Movie forum!