Mutiny
(1952)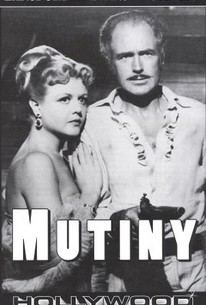 AUDIENCE SCORE
Critic Consensus: No consensus yet.
Movie Info
Director Edward Dmytryk returned from a few unhappy years on the Blacklist in the early 1950s, to direct a handful of programmers before being restored to "A" pictures. Dmytrk's Mutiny is set during the War of 1812. Mark Stevens, captain of the American ship Concord, finds himself at the mercy of mutineer Patric Knowles, who is supposedly loyal to Britain. Actually all Knowles is concerned with is the gold bullion carried by the Concord, which he plans to squander in the company of treacherous femme fatale Angela Lansbury. Stevens recaptures the ship and torpedoes the British fleet, with the aid of a pioneering submarine-like vessel. Mutiny was produced by the estimable King Brothers who allegedly trafficked in illegal gambling devices before hitting upon the more lucrative arena of independent motion pictures.
Critic Reviews for Mutiny
Audience Reviews for Mutiny
Pretty Sad Film, an attemp to put the War of 1812 on the big screen with toy boats. Boaring and dull film was very dark in places. Angela Lansbury starred in this one, she could have only went up from here. 1/2 star.
Bruce Bruce
Super Reviewer
Where to begin with this bottom of the barrel adventure? Dmytryk was always an inconsistent director able to produce fine films like "The Caine Mutiny" and "Broken Lance" as well as high gloss trash such as "Walk on the Wild Side" and "Where Love Has Gone" and slug like this. Strictly paying the rent actors give lackluster performances. Angela looks great but why oh why is she wearing a 1950's evening dress on a warship in 1812? Painfully obvious that this was filmed on the cheap in a studio tank with low lighting to cover the sets shortcomings. A shame since there are not a lot a films about this time period so a wasted oppurtunity like this is doubly disappointing.
Mutiny Quotes
There are no approved quotes yet for this movie.
Discussion Forum
Discuss Mutiny on our Movie forum!