Champagne
(1928)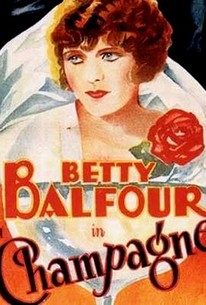 Movie Info
A wealthy man pretends he is bankrupt to teach his wayward daughter a lesson. An early, silent Hitchcock film which is wonderfully photographed.
Critic Reviews for Champagne
Audience Reviews for Champagne
½
I'd quote Oasis' "Champagne Supernova", but I don't want to condone '90s music, and at any rate, it would be way too blasted unfitting, seeing as how this film was made well before, not Britpop, or alternative rock, but rock music itself. Man, this film is so old, but then again, now that I think about it, I probably should work in a reference to some kind of Britpop tune, because this film is about as British as it can get without British accents. ..."Someday you will find me caught beneath a landslide, in a champagne supernova in the sky!" I'm sorry, but, again, even though I don't condone '90s music, after all this talk of that song, I had to just get that out, and it doesn't help that there really isn't much about this film worth "talking about"... if you know what I mean. Yeah, if you think that joke is lame, you might want to see this film, because even Alfred Hitchcock thought it got kind of lame. Okay, maybe this comedy isn't all that fall-flat, but it's a silent film, so don't expect too much in the way of witty lines... unless you feel like reading, you spoiled talkie moviegoer. So yeah, the film is reasonably entertaining, but it's still what it is, for better and for worse. The film is more fun than one might expect, not unlike many other silent comedies, even those as comically underwhelming as this one, but this is still a silent film, and there's only so much that be done to draw narrative intrigue through a lack of vocal humanity, and it doesn't help that Alfred Hitchcock's and Eliot Sanard's script neither keeps all that consistent in dialogue worth advertising via intertitle, nor, if you will, "tells" you all that much about its characters. Both a fluff piece and a simplistic silent opus, this film should by no means be all that terribly interested in fleshing out its narrative and characters, but there's something about the developmental aspects of this film that is a little too lacking, being all but deprived of immediate background, and offering little in the way of gradual exposition. The film is perhaps a little too underdeveloped with its characters, and that's distancing enough, but the film is perhaps most distancing when it does the opposite of brushing over storytelling and drags its feet with meandering material that, for all the lively spots, blands up something fierce before too long. The film is either entertaining or, well, rather dull, and that is really determined by the humor, which is often flat, or at least dated, to the point of feeling nonexistent for long stretches of time in a film that cannot afford to lose momentum to its fluff if it's to be driven so much by it. Yes, people, at the end of the day, the fluff is what really waters down this affair, which was never to be as fine as the champagne it promotes, due to the sheer thinness of a story concept that thrives on light fun that the execution can't always provide. The film ultimately does enough with little to do its job as a classic piece of light entertainment serviceably, yet the story is so thin, and it's execution is perhaps just as much so, thus, the final product runs the risk of falling to mediocrity. It's just too light for its own good, and yet, it's not so empty that it doesn't prove to be reasonably fun in a lot of ways, falling flat in certain areas, and keeping you going in others, including areas of production value. Wilf Arnold's potential as art director are pretty substantially limited in this minimalist affair, yet, as a portrait of the rich, this film still holds a fair bit of potential as eye candy that set designer Michael Powell explores reasonably well with his tastes in fine scenery, which is itself explored reasonably well with Jack E. Cox's tastes in cinematography. Dated in most every areas, including technical value, this film doesn't look especially good, especially considering that, with an abandonment of thriller and drama stories, Alfred Hitchcock abandons much of his distinctive plays with lighting and framing to visual style, but there's still enough scope and polish to Cox's lensing to help draw you into the film. Visual style, however lacking, plays a relatively hefty role in sustaining your attention through all of those bland challenges, yet it alone cannot save the engagement value of this underdeveloped, unevenly structured and altogether narratively thin silent movie. No, what can make or break this effort is Hitchcock's and Eliot Stannard's script, which, of course, makes plenty of mistakes along the way, undercooking certain aspects, and meandering with its handling of others, while, dare I say, falling flat with its humor in so many places, and yet, on the whole, this is a clever and often genuinely amusing interpretation of Walter C. Mycroft's story idea, complete with, well, figuratively colorful characters. No matter how lacking in their development, the characters are about as memorable as anything in this forgettable film, and for this, we have to thank the lively and admittedly rarely over-the-top performances, just as we have to thank a certain offscreen performance for its portrayal of the rest of the storytelling aspects. Hitchcock, as director, gave this film the business in retrospect, and quite frankly, you can't help but feel as though there's something lacking in the inspiration behind this film, yet not so lacking that Hitchcock doesn't deliver on enough stylish shots and some tightness to pacing to subtly, but surely, keep you going. Subtle touches can go a long way in this very sensitive project, and I can't promise that they'll be palpable enough to many for the final product to stand beyond mediocrity, but the patient are sure to have some fair fun to meet every bland spell, of which there are many, quite frankly. When the party is over, the distancing quietness and thin story concept, executed with flatness to development, pacing and certain humor, threaten the final product with mediocrity, overcome by the good-looking production designs and cinematography, clever writing, and decent acting and direction which make Alfred Hitchcock's "Champagne" a reasonably entertaining, if flat comic twist for a legend in dramatic filmmaking. 2.5/5 - Fair
Cameron Johnson
Super Reviewer
½
This is an early, silent, and atypical effort from Hitch that is a comedy centerting around a wealthy man who, after his daughter decides to run off with the man she wants (and enjoy the good life with no real consequence), he decides to show her a lesson by pretending to be bankrupt, forcing her to try to learn her lesson and make a living on her own. It's a fun set up, but honestly, this film is quite forgettable. The picture and sound quality are so-so, but, but it's the execution where this film drags. And it is just that: a drag. This sould be fun, but it's atually rather boring and underwhelming. It's an odd curiousity piece, and probably the only film I know of that involves a man who made his fortune in the champagne business, but, aside from some really good music and being decently shotm this film is rather blah, and doesn't have a whole lot to offer. See it if you feel you must, but don't expect anything great or even really all that eye catching or memorable.
Chris Weber
Super Reviewer
Champagne Quotes
There are no approved quotes yet for this movie.