She
(1935)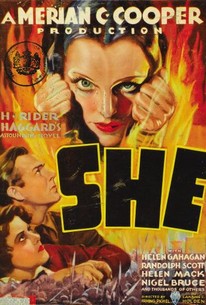 AUDIENCE SCORE
Critic Consensus: No consensus yet.
Movie Info
The second novel by British author H. Rider Haggard (his follow up to King Solomon's Mines) became this adventure classic, filmed twice previously in silent form. Randolph Scott stars as Leo Vincey, the descendant of an explorer who, according to family lore, discovered an immortality-bestowing fire on an expedition to a remote area of Manchuria. Leo sets out on a new voyage of discovery to the region's frozen wastes with a British scientist, Horace Holly (Nigel Bruce). Along the way, their team is joined by a trader, Dugmore (Lumsden Hare) and his daughter Tanya (Helen Mack). A tragic avalanche then kills everyone except Leo, Horace, and Tanya. Rescued by tribal shaman Billali (Gustav von Seyffertitz), the trio is led underground to Kor, a secret land with a hot climate ruled over by the cruel Ayesha (Helen Gahagan), better known to the natives as "She Who Must Be Obeyed."
Audience Reviews for She
the perfect double feature for frank capra's 'the lost horizon" much better than the 1965 remake I've had this on video cos that was only format available til now-the dvd is beautiful to watch.
Greg Wood
This adventure movie with sci-fi overtones has lavish sets and costuming. The story is imaginative and engaging. The acting is on par for the time period. It plays a bit campy now but stands the test of time pretty well - it is over 75 years old. I enjoyed it in its simplicity compared to the movies of our era.
Don Schick
Randolph Scott as Leo Vincey is a bit dry, and it's hard for me to see why these women would be so drawn to him. Helen Gahagan as the titular "She" is ravishing, and very effective. She exudes an ethereal, otherworldly charisma yet when her jealousy takes hold, she seems not just human, but terrifying as well. Unfortunately, this was her only movie. Helen Mack as the other woman, Tanya Dugmore, is just as good, but her character is less well written, but it's easy to understand why Leo would choose her over the allure of eternal life, by way of slavery. However, that's all just icing. The true reason this is so good, and holds up as well as it does, is the remarkable production design. Merian C. Cooper, who created the original King Kong, saw this as another adventure along those lines, and spared little expense; it mostly assuredly shows! From the frigid cliffs, valleys, and caves in the Arctic are very convincing (especially considering the time). The huge vistas, with the sets being so massive, add a great sense of wonder and danger. However, once we enter the art deco-ed lost civilization that She runs, that,s when the eyes are really in for a treat. From the smoke and veiled reveal of She, to the ritual chamber, which is where the end is set, to every bit in between, this place is stunning to look. Using an extensive extras cast, it also sells itself quite admirably at being populated. The costumes are which entrancing as well, each being quite detailed and fun. The B&W cinematography is effective, and I for one, am glad it's in such, as it helps with the supernatural aspects in ways I don't think the early coloring techniques would have allowed. It's a remarkable achievement, and the set designs and costumes are a delight to see; the sense of adventure and danger helps make the other aspects, even more appealing, and most of the acting is pretty good. Definitely worth seeing.
Bobby LePire
She Quotes
There are no approved quotes yet for this movie.
Discussion Forum
Discuss She on our Movie forum!