The Big Bluff
(1955)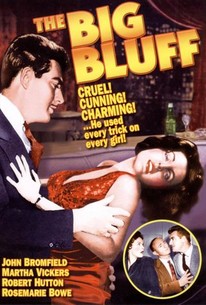 AUDIENCE SCORE
Critic Consensus: No consensus yet.
Movie Info
W. Lee Wilder, the prolific but markedly less talented brother of Billy Wilder, both produced and directed The Big Bluff. Handsome but unscrupulous John Bromfield comes into the life of beautiful and wealthy Martha Vickers. Knowing that she has only a year to live, Bromfield marries her, then settles back to wait for his inheritence. But then she begins showing signs of recovery, forcing the caddish Bromfield to radically alter his plans. The Big Bluff was scripted by Fred Freiberger, who later served as producer of Star Trek.
Critic Reviews for The Big Bluff
There are no critic reviews yet for The Big Bluff. Keep checking Rotten Tomatoes for updates!
Audience Reviews for The Big Bluff
This is an effective noirish suspense drama. The acting, direction, and cinematography are typical of 1950s low-budget productions but there are plenty of good scenes. After a slow start, the plot evolves into a modern morality tale where a scheming villain gets his payback. The print is inferior but the soundtrack is satisfactory. John Bromfield delivers a convincing performance as an unscrupulous gold-digging gigolo who seduces and marries a wealthy widow (Martha Vickers) who is seriously ill with only a few months to live. Much to his dismay, the marriage works wonders for her health and she improves so much that he is forced to hatch a diabolically clever plan to murder her. Of course, things quickly go wrong and lead to a terrific plot twist and surprise ending. Not classic noir, but a decent little movie with redeeming features. 3 Stars 8-13-13
Bruce Bruce
Super Reviewer
½
A low budget film, it never-the-less builds tension that saves it from mediocrity. Just as we think we have this sordid tale figured out, no it goes another direction. Recommended for film noir enthusiasts or anyone that likes a good crime story regardless of the acting, cinematagraphy, etc. This one isn't about money, that is, initially. Its about lovers in the night. Ships passing in the night, discovering each other with tragic consequences. When a scheming fortune hunter finds his rich wife is not going to die as expected, he and his lover make other plans to get her millions. See it at: http://www.archive.org/details/big_bluff A bit about the plot: A man (Rick, a guy that gives me a bad name) involved with another man's wife finds he's low on money to support his lifestyle. He stumbles upon some wealthy Eastern women who come to California for one of them that has health issues. She is supposed to lead a calm life. Instead she (a widow), continues her late hours nightlife in California. Well, it's up to you to guess what happens next. But wait, M. Rick, just what does that title mean?: In this case, its pretty obvious that we have a gigalo on the hunt for money from a dying, young, attractive widow. He even mentions the words: Big Bluff.... in the first third of the film. No, it's not about mountain climbing. It's not about card playing. The big bluff is all about deceitful romance. NOTES about the film: 1 A Quote from the film: says lead Ricardo 'Rick' De Villa: "You know you're very beautiful when you get mad! But listen, no other woman means a thing to me, and if you don't know it now, you never will. Just think, an opportunity like this knocks only once, and I know when to open the door." 2 The director is none other than Billy Wilder's brother! Reviews of the film: 1 "W. Lee Wilder's THE BIG BLUFF will never be a threat to his brother Billy's genre-defining classic, DOUBLE INDEMNITY, but on its own terms it's a nifty little quickie with a good story and a nice trick ending. When it starts, this film looks so cheap -- I mean, Ed Wood cheap -- you're tempted to hang it up, but stick with it. It improves as it goes along. The writing and cast are perfectly adequate and it's more entertaining than a lot of big budget A pictures." 2 "John Bromfield (Rick) was a very handsome man. You can see that in this movie. One of the girls reminded me of Marilyn Monroe. Must look for more info on these handsome people." -----by HoferPM-1 Cast John Bromfield as Ricardo 'Rick' De Villa Martha Vickers as Valerie Bancroft Robert Hutton as Dr. Peter Kirk Rosemarie Stack as Fritzi Darvel Eve Miller as Marsha Jordan Max Palmer as Detective Sgt. John Fullmer Eddie Bee as Don Darvel Robert Bice as Dr. Tom Harrison Pierre Watkin as Jim Winthrop Beal Wong as Art Dealer Directed by W. Lee Wilder Produced by W. Lee Wilder (producer) Written by Mildred Lord (story) Fred Freiberger (screenplay) Music by Manuel Compinsky Cinematography Gordon Avil Editing by Terry O. Morse Release date(s) 5 June 1955 Black and White Running time 70 minutes
monsieur rick
The Big Bluff Quotes
There are no approved quotes yet for this movie.
Discussion Forum
Discuss The Big Bluff on our Movie forum!