Reckless
(1995)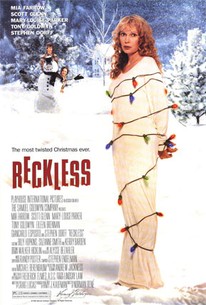 Movie Info
Reckless is a dark, dream-like comedy-fantasy adapted by Craig Lucas from his play that takes place in a strange, hallucinogenic otherworld. Mia Farrow stars as annoying, air-headed housewife Rachel, who discovers on Christmas Eve that her husband Tom (Tony Goldwyn) has arranged for a hit man to murder her. Barely escaping with her life into the snowy wastes of her neighborhood, Rachel crosses paths with a social worker, Lloyd (Scott Glenn), and Lloyd's paraplegic, deaf and mute wife, Pooty (Mary-Louise Parker). Rachel takes up house with the friendly couple, but Lloyd is not quite what he appears to be and the naïve Rachel is forced to flee. This time, her travels take her into contact with a variety of eccentric characters, including game show host Fast Tim Timko (Giancarlo Esposito), the staff of a non-profit group, and a troubled nun. As she crosses America, Rachel visits all 50 states, although she repeatedly ends up in towns called Springfield. Reckless (1995) was the third and final film of director Norman Rene, who passed away the following year. Rene had previously collaborated with Lucas on the films Longtime Companion (1990) and Prelude to a Kiss (1992).
Rating:
PG-13 (for complex psychological themes and some disturbing images)
Genre:
, ,
Directed By:
Written By:
In Theaters:
On DVD:
Runtime:
Studio:
Samuel Goldwyn Films
Audience Reviews for Reckless
This oddly off-kilter adaptation works on no level. That being said, it does deserve some sort of credit for being the oddest Christmas movie I've ever seen. ...And, that includes several disgusting horror movies. So jaw-droppingly bad that I almost want to give it two stars, but that would be unfair and untrue. Watch at your own caution. As Mia Farrow's character whines to Tony Goldwyn's - "That is soooo mean!"
Matty Stanfield
Horribly underrated, this gem brings viewers a wonderfully twisted dark comedy. A bit too odd for many to fully enjoy I suppose but Farrow's performance is great and some of the finer moments, although potentially distubing, are amazing.
Evan Huston
Reckless Quotes
There are no approved quotes yet for this movie.
Discussion Forum
Discuss Reckless on our Movie forum!