Gei ba ba de xin (My Father is a Hero) (Jet Li's The Enforcer)
(1995)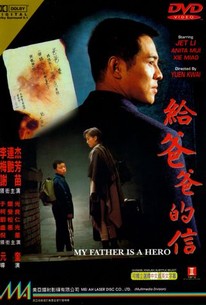 Gei ba ba de xin (My Father is a Hero) (Jet Li's The Enforcer) Photos
Movie Info
This film, borrowing heavily from the James Cameron/Arnold Schwarzenegger blockbuster, True Lies, is the story of a Chinese government agent whose family is unaware of his covert career. Posing as a small-time criminal, he travels undercover to Hong Kong. When a tough Hong Kong cop (Anita Mui) goes to China to look into his background, she finds that his wife has died, and she promises to take care of his young son (Tsue Miu). Although she reunites the boy with his father, the three must face a small army of gangsters. Child kung fu prodigy Tsue Miu, who starred with Li in New Legend of Shaolin, is perfectly cast; with his martial arts skills and serious demeanor, he is Jet Li in a small package.
Critic Reviews for Gei ba ba de xin (My Father is a Hero) (Jet Li's The Enforcer)
Audience Reviews for Gei ba ba de xin (My Father is a Hero) (Jet Li's The Enforcer)
½
Things here have been uneven with me helping pay for a family funeral and friend soon to be marry I haven't time to write proper reviews for the better movies I enjoyed. Until then, I'll write of movie less deserving of my time, like My Dad the Hero (or The Enforcer). The Enforcer is about a cop whose job keeps him from attending his son's junior kung fu competitions. When sent undercover to infiltrate the gang of a brutal mob boss, his arrest--part of his cover story--exposes his son to humiliation in school. Meanwhile, his wife falls deeper into illness. The Enforcer is has an okay story which does developed, but never does anything interesting with it. I also find it to be a little too sentimental for my taste as nearly everyscene with a character I call little Li (Jet son in the movie) focuses a little to much on the father for us to actualy care when his mother died. She`s so poorly developed that it left little effect on me and it will on you too. Another problem with the story is that it's uneven as we get many long dramatic scenes and short action scenes which will challenge some viewer. For whatever flaws it has I can overlook because it did provide an interesting father and son relationship. As much I dislike the fact that the story should have focus entirely on Li being undercover as it`s clearly the better written part of the movie. Since it`s not like that, we unfortunately have like a third of the movie where it focuses on little Li which aren`t as interesting and slows down the pace of the movie. Despite it highs and lows points it doesn`t offer anything worth remembering. It does offer the entertainment of a good, but that`s when it focuses on Jet Li character. The Martial Art Chereography is nothing impressive, but then again it sure passes the time. I want to make myself clear by saying I don`t hate little kids, but it`s not exactly belivable when you have a ten year old fighting against adults which it look over the top, especialy in the climax during an auction. Now the adults acting were good, mostly because of Jet Li (for the most part) and Anita Mui ended up stealing the movie for me. Unfortunately the child actors aren`t good, something I always prepare for in a movie. These kids can`t act as one noticeable example is when little Li is beating up a kid picking on him and you can clearly see him laughing. Which is unfortunate since the child actor we`re stuck with isn`t any better and is barely watchable when he`s not fighting. The Enforcer certainly passes the time and I could understand why it has the user rating it has for it appeal. Unfortunately i`m not one of them as I found an overall mess with mix results.
Caesar Mendez
Super Reviewer
I have no idea how much time it took to choreograph and shoot the climactic fight scene on board the ship, but it is spectacular. And with very little wire work. One bit of wire work involves Jet Li swinging his son around on a rope to kick a bunch of people. Very funny. That's why I usually don't like wire work. It's a bit corny and takes away from Li's real expertise. Most of that sequence, however, is all Jet Li full on. Right on!
Lanning : )
Super Reviewer
A defining Jet Li moment.
Anthony Valletta
Super Reviewer
Gei ba ba de xin (My Father is a Hero) (Jet Li's The Enforcer) Quotes
There are no approved quotes yet for this movie.