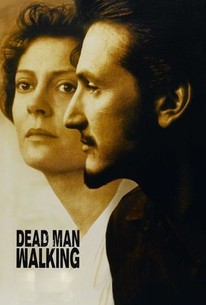 Dead Man Walking
1995, Crime/Drama, 2h 2m
61 Reviews
50,000+ Ratings
What to know
critics consensus
A powerful, thought-provoking film that covers different angles of its topic without resorting to preaching, Dead Man Walking will cause the viewer to reflect regardless of their political viewpoint. Read critic reviews
Where to watch
Rent/buy
Subscription
Subscription
Rent/buy
Rate And Review
Movie Info
As death row inmate Matthew Poncelet (Sean Penn) nears his execution date, he calls upon Sister Helen Prejean (Susan Sarandon) to help him with one last appeal, maintaining that he is innocent of the murders of a young couple. Poncelet begins to form a bond with Prejean, and she visits both his family and the relatives of the victims, hoping to learn more about the case. As things begin to look bleak for Poncelet, Prejean does all that she can to comfort and console the hardened convict.
News & Interviews for Dead Man Walking
Audience Reviews for Dead Man Walking
A daring, objective and thought-provoking drama that inspires us to reflect on such medieval practice and discuss it for hours straight, even if it also respects those who are in favor, and it has two magnificent and greatly nuanced performances by Sean Penn and Susan Sarandon.

A soapy, longwinded drama that simply is not the moving film that warrants the praise it received. Directed by cold cocking activist Tim Robbins, his longtime partner Susan Sarandon playing the lead of Helen Prejean, and also starring Sean Penn as a fearless convict, this film bleeds for the cause of human life. This film, though moving at times, is so slanted and nauseating that the performances come off as forced and irrationally concise. It's not that the performances were bad. To the contrary, for what the movie was and for what it was obviously trying to convey, the performances were sappy enough to work. Though the film is formulaic and borderline obvious at best, it was based on the book by Sister Helen Prejean who visited and held religious counsel for Matthew Poncelet, who had murdered two people with an accomplice in cold blood. I can't fault the film for taking such sensitive subject matter and making a complex dynamic between Helen's guilt at giving Matthew religious salvation when his crimes were so abhorrent, and having the family shun her for it. Sarandon's performance is far more human than expected, as she herself is not the perfect saint or unconventional nun with an authoritative air, who always appears in these kinds of human interest films. Penn got on my nerves a bit, only because he tries to play up the convict's vulnerability to the umpth degree, and though the film is trying to show that the death penalty is wrong, and everyone is allowed their salvation, it was so schmaltzy and fake that it was only the ending that saved this film. The profile of the convict, the interviews with the families by Sister Prejean, and the feeling of the film made it a bit of a blight for emotional heart pulling films. Though it was a disappointing film for me personally, it was great to see Sarandon in such a human role.

"Thank you for loving me." A great movie with fantastic performances from Sean Penn and Susan Sarandon. By the end of the movie, you'll have formed a definitive take on the death penalty and forgiveness. Dead Man Walking is about a Mathew Poncelot (played by the great Sean Penn) who is on death row for the murder and rape of two teenagers. He reaches out to a nun, Sister Helen Prejean (played by Sarandan) to ease his pain for the coming weeks before he is executed. This film reminded me a lot of The Green Mile, one of my favorite movies. It's amazing how director Tim Robbins can turn your thoughts around and actually make you feel sorry for the "bad guy." I thought Dead Man Walking was an emotional powerhouse of a story with wonderful execution (no pun intended) by director Tim Robbins.

In his second turn as a director, Tim Robbins, along with longtime partner Susan Sarandon, a bunch cof his extended family, and tons of other notable names all got together to create this: a film adaptation based on a work by Sister Helen Prejean, a nun who has spent time counseling deathrow inmates. The film soimplifies the story and focuses on Helen as she coems to know and try to help Matthew Poncelet a composite of 2-3 real life figues. Matthew (in the film) is on death row for kidnapping, then brutally raping and murdering a boy and girl out near some lover's lane somewhere along with a friend of his. The film follows Sister Helen as she tries to help Matthew get an appeal or a lesser sentence, feeling that, though he may be guilty, he isn't deserving of the death penalty. Yes, the film does ultimately have a bias concerning capital punishment, but it also presents mutltiple and well developed viewpoints of the issue, and makes a good case for both. It does have it's bias, but it is also more subtle than I expected it to be. I figured it would be very blunt and bludgeon the audience of the head with it's message a la The Life of David Gale (which now that I think about it may not be quiote as good as I originally thought). Given the well know npolitical views and activism of Penn, Robbins, and Sarandon, I was surprised with how the film ultimately treated the issues at hand, and am very thankful for how itr all ended up. Yes, it gets a bit heavy handed here and there, but it's hard to fault it too much since it's all done so well. The film doesn't make Matthew totally symapthetic, but it does humanize him, and the concluding scenes are very moving. I had a personal moment of joy when I realized that the song playing during the big climax as Matthew is being led to the execution room was a version of a song I sang with my choir back in high schhol. I believe it's a Swedish funeral march, but I can't remember. Okay, that little diversion aside, this is a very moving, thought provoking, and sensible cinematic treatment of a touchy subject. It isn't completely cliche free, but it is far more fresh than I was figuring it might be, and the performances are just wonderful. Sarandon won an Oscar, and Penn was nominated, and both are incredible. They bring a lot of depth to their roles, and play them very realistically. To support them are people such as R. Lee Ermey, Robert Prosky, Raymond J. Barry, and even Jack Black. All of them and the rest do a fine job fleshing out their various characters and giving life to people who, for various reasons, have strong opinions on capital punishment, and it's hard to really take sides because they all make you feel for them. I'm torn on the rating, so let's be kind and give it somewhere between a 4 and 4 1/2. This is a very stirring and emotional drama that raises good questions, answers some, but leaves it up to the viewer to really decide what it should be. Given the material, that's all I could ask for, because this is an issue where it's best to leave it open (ultimately) because it's such a slippery slope. You should give this a watch.
See Details