Last Dance
(1996)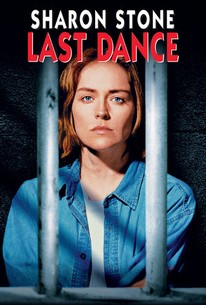 Movie Info
Rick Hayes is a recent appointee to the Clemency Board of an unnamed Southern State and death-row inmate Cindy Liggett is one of the lawyer's first cases. After discovering that Cindy received woefully inadequate legal representation at her trial, Rick tries to fight for a stay of execution.
Rating:
R
Genre:
, ,
Directed By:
Written By:
In Theaters:
On DVD:
Runtime:
Studio:
Touchstone Pictures
Critic Reviews for Last Dance
Audience Reviews for Last Dance
Trying to capitalize on Sharon Stone's Oscar nomination for Casino (her one and only nomination to date), Last Dance is a hokey and pokey death-row drama about a female inmate who has lost all hope of a reprieve from her crime after spending more than a decade behind bars awaiting her execution. Convicted of murder twelve years earlier at the age of 19, Cindy Liggett (Stone - Basic Instinct, The Mighty, Bobby) is given one last chance at clemency when a new clemency board attorney (Rob Morrow - Quiz Show, The Emperor's Club, "Northern Exposure") is assigned her case. By pointing out inconsistencies with her earlier trial in addition to claiming that as Cindy had been under the influence of mind-altering drugs (crack cocaine) at the time of the murder, she is no longer a threat to anybody as she has been fully rehabilitated. Everything about Last Dance is sub-par and at its very best moments it almost reaches mediocrity. While Stone was impressive as a greedy, cold, coke-head trophy wife in Casino, Last Dance's director Bruce Beresford cannot replicate Martin Scorsese's accomplishment with the actress. For the most part, the film is dull and lifeless (bad pun) and it did not help that during its theatrical run Last Dance opened a couple of months after another (but far superior) death row drama that won its lead actress an Oscar (that would be Dead Man Walking). As neither of the films are rousing crowd-pleasers, seeing one is enough; and 99 out of ... well 100 out of 100 times I'd recommend seeing the good one -- Dead Man Walkiing. Last Dance can sit them all out.
Thomas Williams
Rick Hayes (Rob Morrow) is a young lawyer who gets a new job and is assigned a clemency case on Cindy Liggett (Sharon Stone) who has been on death row for 12 years for double murder of a wealthy man's son and his girlfriend. Rick tries to save Cindy from execution but her chances for clemency are shaped by local politics. (Jack Thompson plays the Governor, Randy Quaid is Rick's veteran boss and Peter Gallagher is his chief of staff, as well as being Rick's brother.) But Rick is determined to slay the dragons for her against predictably hopeless odds and moves heaven and earth to save her from death by lethal injection as the countdown to D-Day draws closer.
½
Not all that exciting and nothing really happens until the third act. As far as prison movies go, the beginning was dragged and it took a long time to pick up. Needs quite a bit of improvement to make it a more enjoyable movie!
Pele Lui
Last Dance Quotes
There are no approved quotes yet for this movie.