Head of the Family
(1996)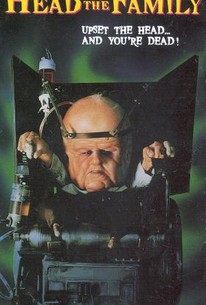 AUDIENCE SCORE
Critic Consensus: No consensus yet.
Head of the Family Videos
Head of the Family Photos
Movie Info
This well-written, entertainingly tasteless tongue-in-cheek horror film from Full Moon Pictures concerns Lance (Blake Bailey) a wimpy diner owner who is being shaken down by a crass, loutish biker named Howie (Gordon Jennison). Lance and Howie's wife Loretta (Jacqueline Lovell) are having an affair on the side and want to get rid of Howie for good. The opportunity presents itself when, on their way home from a Lover's Lane tryst, they notice a strategically placed detour sign leading to the Stackpoole house. It turns out that the Stackpooles are a family of quadruplet freaks, with three of them telepathically ruled by the fourth. Retarded Otis (Bob Schott) is the muscle; bug-eyed Wheeler (James Jones) is the eyes and ears; gorgeous Ernestine (Dianne Colazzo) is the seductress; and Myron (J.W. Perra) -- a giant head strapped to a wheelchair -- is the "brains" of the operation. Myron wants to be more than just a talking head, so he waylays passersby and does brain experiments on them, keeping the lobotomized zombies in a basement dungeon. The best thing about the film is its appealing young cast, led by Lovell, who has great comic timing and funny delivery to go along with her oft-displayed body. As Myron, Perra's dry, ornery style is a perfect antidote to the usual over-the-top silliness of many similar villains. Benjamin Carr's script is delightfully (and surprisingly) sleazy, lending the air of a good old-fashioned 42nd Street grindhouse film to the proceedings. A sick treat for fans of unusual horror, Head of the Family is a worthwhile rental.
Rating:
R (adult situations/language, sex, violence)
Genre:
,
Directed By:
Written By:
On DVD:
Runtime:
Studio:
Full Moon
Audience Reviews for Head of the Family
One of the better pictures from Full Moon, it has a decent story with fun effects, though too much sex and stupidly sprinkled throughout. The pacing is a bit slow, and the characters aren't the best, but they add to the story. Cheapo effects that add to the charm. The ending is a bit dumb, but overall, it's what you would expect, only moreso.
Wes Shad
Not a fan of the comedy/horror genre; just two things that shouldn't be put together. This did remind me of movies I used to see at the drive-in back in the late 70's and early 80's. B-movie fare that had little in the way of effects. Acting is poor. Story is not interesting enough and the lack of effects doesn't help. Lots of nudity though.
Don Schick
A small-town con-man happens upon the terrible secret of the local family of wealthy deformed eccentrics. He attempts to blackmail the family only to discover the one family member who doesnt leave the home is a highly-intelligent gigantic head for whom his job of choice is medical torture. Very funny and stars Alexandra Quinn.
D M
Head of the Family Quotes
There are no approved quotes yet for this movie.