The Struggle
(1931)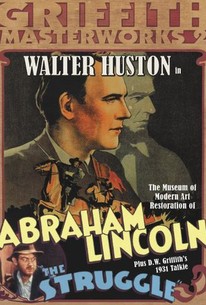 Movie Info
The directorial career of D.W. Griffith, "the father of the American cinema," ended on a discordant note with The Struggle, his second and last talking picture. Self-produced by Griffith and filmed on a $300,000 budget at a Bronx rental studio, the story is based on Emile Zola's cautionary tale The Drunkard. Broadway star Hal Skelly plays Jimmie Wilson, a bibulous millworker who swears off booze when he marries the lovely Florrie (Zita Johann). Alas, the combined pressures of his job and his new husband-and-father status lead him back into the local speakeasies, where he gets blind and stinking drunk on bootleg hootch. Losing job and family both, Jimmie wanders the streets as a bum until his sweet little daughter brings him back to his senses during a symbolic snowstorm. Reportedly, screenwriters Anita Loos and John Emerson wrote their screenplay as a sly satire of the Zola original, but Griffith insisted upon treating his material seriously. The resulting film was branded as hopelessly hokey and anachronistic: many reviewers, out of respect for Griffith's past triumphs, refused to critique the film, while other less-sentimental souls were positively savage in their condemnation of the production. Seen today, The Struggle is really no worse than most other films of its era, and at times it's actually better; the scenes in the mills, filmed on location with "natural" lighting, have the ring of utter authenticity, while Skelly's performance of a man ruined by cheap alcohol is intelligent and convincing. Still, The Struggle is a notch below the usual Griffith standard, rehashing themes he'd handled to better effect in his Biograph days. Financially the film was a disaster, and as result Griffith never directed another picture, spending his last 17 years in melancholy exile. The one positive aspect of the film is that it introduced Griffith to actress Evelyn Baldwin (cast as Skelly's sister), who became his second wife in 1936.
Critic Reviews for The Struggle
Audience Reviews for The Struggle
There are no featured audience reviews yet. Click the link below to see what others say about The Struggle!
The Struggle Quotes
There are no approved quotes yet for this movie.