Scandal (Shubun)
(1950)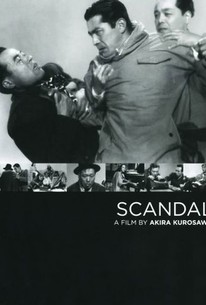 Movie Info
This Akira Kurosawa film sets forth the theory that the postwar Japanese press was too free in its insinuations, and that personal privacy had been sacrificed for the sake of sensationalism. The film traces the tragedy that results when a prominent lawyer is skewered by the press.
Critic Reviews for Scandal (Shubun)
Audience Reviews for Scandal (Shubun)
While this isn't top-tier Kurosawa, even his lesser works are solid films full of his talent and the actors that he would make famous! The film features solid performances from both Toshiro Mifune and Takashi Shimura and both fill out their characters nicely. "Scandal" tends to get near and in many cases reaches melodramatic at times but the film has a lot of heart to match it's offbeat comedy and solidly acted screenplay. Any Kurosawa is fine by me and this is no exception!
Chris Browning
Super Reviewer
½
[font=Century Gothic]In "Scandal," Miyako Saijo(Yoshiko Yamaguchi), a famous singer, blissfully sings while climbing a hill until she realizes she is not alone. Ichiro Aoye(Toshiro Mifune) is painting nearby Mount Kumitori while being surrounded by a group of admirers. Since she missed her bus, he gentlemanly offers her a ride on his motorcycle to a nearby resort where there are paparazzi waiting in ambush. Being a very private person, she does not wish her picture taken. However, they still get a shot of her and Ichiro which is plastered all over Tokyo in a tabloid, intimating that the two are having an affair. Ichiro confronts the publisher Hori(Eitaro Ozawa), threatens a lawsuit and even slugs him.(Even though I'm a pacifist, I think he had it coming.) Hiruta(Takashi Shimura), a lawyer, drops by Ichiro's studio to offer his services.[/font] [font=Century Gothic]"Scandal" is a solid movie that has lost none of its punch over the decades, even if a couple of the scenes are overplayed and go on too long. Regrettably, celebrity journalism is still with us to rob celebrities of any kind of privacy. In this movie, Miyako and Ichiro are the protaganists whose creation of art is respected which Hori does not. He is just trying to sell magazines by whatever means necessary, even if lives are wrecked in the bargain. Somewhere in the middle is Hiruta who is badly in need of redemption.[/font]
a solid film with great acting and diologue, even if the plot was a little silly. there is a sense where the plot is very good as it points out the abuses and hypocracy of the media, but at the same time the film didnt really carry any significance in the bigger picture of humanity which is rare for a kurosawa film. still, this story had some profound elements, especially the internal moral struggle of shimura's character and the impact that his dying daughter had on him. written and shot well and entertaining to watch.
Scandal (Shubun) Quotes
There are no approved quotes yet for this movie.