Stalingrad
(1995)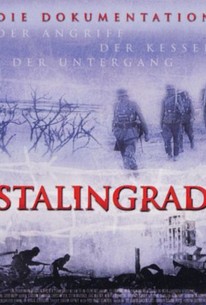 AUDIENCE SCORE
Critic Consensus: No consensus yet.
Movie Info
Witness the story of six brothers in arms protecting the heart of their homeland.
Critic Reviews for Stalingrad
Audience Reviews for Stalingrad
½
Brilliant depiction of the Battle of Stalingrad from the German point of view, Stalingrad is a stunning war drama that ranks among the genres finest works. The film is a near perfect war picture that shows the chaos of the battle. Brilliantly shot and acted, Stalingrad ranks among the finest films in the genre. This is a film that will definitely appeal to war film enthusiasts and it's truly a standout picture in terms of its scope and execution. The battle was a turning point in the war, before Stalingrad, the Germans seemed invincible, unstoppable, but upon this battle, things started to rule in the favor for the allies. Handled from the point of view of the Germans, it's a well crafted picture that shows what it was like during the battle, and it's an accurate portrait of the events that followed during the battle. War buffs will be satisfied with how the film was handled, and it's the best on film representation of the battle. The direction, acting and story are all excellent and highly engaging from start to finish. For the historical value, Stalingrad is great and it is one of the most accurate portraits of the Second World War that I have. As a whole, this ranks as a classic War film, and it succeeds at being a film that is taut, riveting and memorable. Stalingrad is a worthwhile film well worth your time. If you're interested in the subject, then give the film a watch, it's a stunning feat in cinema, and a finely executed picture that enthralls and captivates from start to finish. As one that really loves the genre of War films, and one who is greatly interested in the Second World War, Stalingrad is a fine film that is highly recommended because of its sheer power at storytelling and recreating one of the major events during the war.
½
While the film fails at attempting to create an emotional connection between the audience and the central characters the film still succeeds brilliantly at portraying the utter insanity and brutality of what may have been the quintessential battle of WWII.
Alec Barniskis
Super Reviewer
½
It was nice to see a different kind of WWII movie. We're used to look at the life of coalition forces but now it's all about the Germans. Stalingrad was a brutal battle and that can be seen on the big screen also. It's gritty and feels realistic. The action though is not so good, it hasn't aged well in that perspective. The acting is throughout the movie on a good level but the story could've been a bit more interesting. A good war movie but not that exceptional.
Stalingrad Quotes
There are no approved quotes yet for this movie.