Last Man Standing
(1996)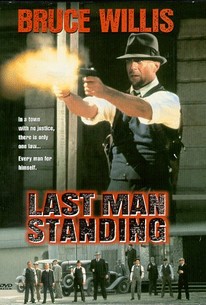 Movie Info
A drifting gunslinger-for-hire finds himself in the middle of an ongoing war between the Irish and Italian mafia in a Prohibition era ghost town.
Critic Reviews for Last Man Standing
Audience Reviews for Last Man Standing
½
Long on action, short on engagement, which makes for a high-body-count-but-who-cares-anyway sort of film. Walter Hill's got a beautiful redneck noir thing going here, a dusty Texas podunk town in the middle of nowhere,hoods dressed outta Capone's Chicago days, everyone talking tough (right on the edge of parody - only Walken seems to know, dipping his toes into it every once in awhile) and acting smart, but his characters fail to connect, dulling the possibilities. Then the gunplay starts again, right when you was starting to doze off, and it don't seem so bad then.
Kevin M. Williams
Super Reviewer
Joe Monday: You know, for a guy with no principles, sometimes you act kinda peculiar.  "There are two sides to every war. And John Smith is on both of them." Last Man Standing is not a horrible remake of Yojimbo. But I've got two films to compare it to; those being Yojimbo and A Fistful of Dollars. When you look at it beside them, it obviously isn't going to compare. Really, Last Man Standing isn't that bad, but it suffers from trying to be as cool as Yojimbo and A Fistful of Dollars, when it never could be. Bruce Willis has a cool presence in the movie, but his eyes half shut, whispering routine gets old quicker than normal.  There's some things I did like about the film though. I liked the dusty look to the movie. I liked the new setting for the same story. This time it's in Jericho, Texas during the prohibition days. The town looks like your standard western setup. I also liked Christopher Walken in a gruff voice, scarred face, bad guy role. The stuff I like just doesn't balance up great with the stuff I don't. If you've seen Yojimbo or A Fistful of Dollars, you know this story. It's a cool one. A drifter comes into a war torn town and plays both sides against each other. He plans on making as much money as he can by switching sides at different times, when the money is better on the opposing side. Bruce Willis plays John Smith, the drifter. He's a master gunman and must also be a master dodger because hundreds of people shoot at him, yet none hit him. It's one of those invincible character movies, and I guess I'm fine with that.  This is a story that is so cool that whenever it is remade again, I'll watch it. This one just didn't have everything going for it like the other two, but it's still worth a watch. I probably would have liked it much more if I hadn't seen the other two before it. Knowing how great those two are really does rake away from this. If you haven't seen any of the three, I would suggest watching this one first. You'll get more enjoyment out of this one than I did.
Melvin White
Super Reviewer
½
Haven't seen this since 96 on cinematic release but I know it did poorly which is really a bit of a mystery to me as I quite enjoyed this. Well known of course as a remake of 'Yojimbo' and remake of that 'A Fistful of Dollars' so you know what to expect but admittedly when completely copying certain scenes exactly from the Clint remake you start to wonder why bother. Apart from that it looks great in Prohibition-era Texas with all the natty suits, hats, a dusty ghostly western town and tommy guns blazing. Action is vicious when it kicks in with some pretty intense over the top gun battles, although the way some bad guys fly back through the air when hit is a tad silly. All the bad guys are well cast and eat up the screen perfectly, Kelly and Walken easily the best, but the casting of Willis was possibly a mistake as he isn't the greatest of actors and doesn't have the presence to pull off a 'Clint' type character. Love the idea of the era for this remake though, perfect choice, good fun to watch in my opinion if slightly slow inbetween the gun fighting and unfortunately the ending is a bit of an anti climax, could of been more epic than that surely?. Solid stuff.
Phil Hubbs
Super Reviewer
Last Man Standing Quotes
There are no approved quotes yet for this movie.
Discussion Forum
Discuss Last Man Standing on our Movie forum!