In Cold Blood
(1996)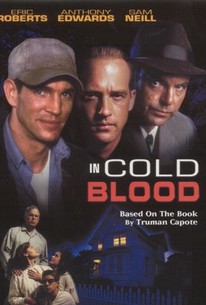 AUDIENCE SCORE
Critic Consensus: No consensus yet.
Movie Info
The crime that shattered America's innocence comes to vivid life in this adaptation of Truman Capote's groundbreaking non-fiction book of the same name (which was previously adapted for the screen by director Richard Brooks in 1967). Compelled by a fellow convict's claim that a wealthy Kansas rancher named Herb Clutter has stashed $10,000 in his home safe, 20-year-old convict Dick Hickock (Anthony Edwards) bides his time behind bars awaiting the day he will be paroled. When that day comes, he recruits unrepentant ex-con Perry Smith (Eric Roberts) to help him retrieve the cash. Upon invading the Clutter's home on a crisp November night in 1959, however, Hickock and Smith find no safe, and fly into a rage, killing the rancher, his wife, and their two teenage children. Later, despite a disheartening lack of evidence, Detective Alvin Dewey (Sam Neill) does everything in his power to crack the case, and catch the killers.
Rating:
NR
Genre:
, ,
Directed By:
Written By:
In Theaters:
On DVD:
Runtime:
Studio:
Hallmark Entertainment
Audience Reviews for In Cold Blood
½
In Cold Blood (1996) ? 1/2 Needlessly expanded (and detailed) remake of Richard Brooks' 1967 masterpiece (with some style and techniques lifted directly from it, so what exactly is the point of this retread?). Tells true story of criminals robbing rich man, and then murdering his family in the process. The two actors playing the murderers never seem dumb enough (or psychotic enough) with Sam Neill delivering a startlingly ineffectual, one-note performance as one of the detectives. And it goes on forever.
Tanner Bartko
I had "In Cold Blood" set up to auto-record on my TiVo so I wouldn't have to keep searching for it. Lo and behold, it showed up as having been recorded. To my dismay I found this 1996 Hallmark Channel TV movie remake instead of the 1967 theatrical film. The original movie was an Oscar magnet, earning four nominations, and rightfully so as it's a taught, compelling adaptation of Capote's novel. This one is mired in the same mediocrity that besets nearly all made for TV movies. It's all the film that's print to fit . . . the alloted TV time slot . . . with uneven, mired down pacing that geared for commercial breaks. Add to that mediocre small budget production values and compromises made to conserve budget, using 2nd and 3rd string actors, with a Roger Corman School "make 'em dirt cheap" director, and the result is a dull plodding movie that can serve as a perfect substitute for sleeping pills. This is a movie remake that should NEVER have been made! Hallmark should have gotten the rights to the original 1967 film and broadcast it instead.
John Lind
Meticulously detailed, way too much so, making this a very long and drawn out version of the famed novel. It?s admirable they wanted to include as much of the book in the film, but sometimes being more selective in what you include is an asset in a movie. It does have respectable period detail, and it is well acted by everyone, good cinematography. It?s main problem is it?s extreme length and the fact it takes way too long to climax. . Still, there are rewarding moments along the way. It is surprisingly subdued and non violent. The 1967 Richard Brooks version is far better and much shorter. Check out a very young Ryan Reynolds who plays Bobby Rupp.
James Higgins
In Cold Blood Quotes
There are no approved quotes yet for this movie.