Crash
(1996)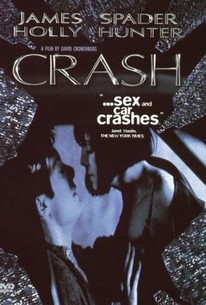 Movie Info
After surviving a brutal car wreck, commercial director James Ballard finds himself slowly drawn to a mysterious subculture of people who have transformed automobile accidents into erotic events. Like the J.G. Ballard novel that inspired it, David Cronenberg's study of the sexual dimension of man's relationship to technology was a magnet for controversy, drawing a NC-17 rating and criticism from several sources, including studio owner Ted Turner, who attempted to prevent the film's American release. But though some have leveled charges of pornography, James' descent into this fetishistic underworld is approached with cold, scientific detachment. Characters like Vaughn, the charismatic group leader who stages recreations of celebrity car crashes, seem more like driven researchers than sexual renegades, which is undoubtedly part of the film's point. This impression is reinforced by the pristine cinematography by Peter Suschitzsky, which proves particularly haunting during a crucial accident scene, and Howard Shore's superb score. Far from exploitative, Crash in fact proves less transgressive than the original novel, but is still undoubtedly not for all tastes. ~ Judd Blaise, Rovi
Audience Reviews for Crash
½
A perversely disturbing and highly uncomfortable film that bursts with overwhelming sexual intensity as the characters engage in a compulsive fetishistic psychopathology that is strangely telling, even if it will probably leave most viewers repelled and make them never want to see it again.
Carlos Magalhães
Super Reviewer
outstanding cronenberg work, more disturbing than anything i've seen since...'dead ringers'! don't watch if you're at all frightened of driving!
Stella Dallas
Super Reviewer
In my opinion, this film is a masterpiece by Cronenberg. Features a frightening performance from Elias Koteas.
Graham Jones
Super Reviewer
Crash Quotes
There are no approved quotes yet for this movie.
Discussion Forum
Discuss Crash on our Movie forum!